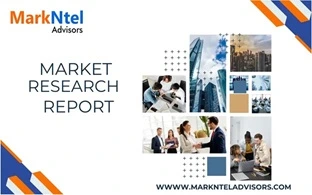 Global Potato Starch Market Share & Market Size: Forecast (2023-2028)
By Nature (Organic, Conventional), By Type (Native, Modified), By End User (Food and Beverages , Feed, Industrial), By Region (North America, South America, Europe, The Middle East
...
& Africa, Asia-Pacific), By Company (Emsland Group, Vimal PPCE, Tereos, Cargill, Pepees SA, KMC, Tate & Lyle, AVEBE, Roquette, Radchen USA INC., Royal Ingredients Group, SÜDSTÄRKE GMBH, Lyckeby, Argana Beteiligungs , AKV Langholt AMBA, Others)
Read more
Food & Beverages

Jul 2023

192

FB10230
Market Definition
A fine white-colored powdered content obtained from potatoes is termed potato starch. The starch is extracted from the tubers of the potato plants by practicing a proper process in which the potatoes are crushed & the starch granules are separated from the cell structures. Once the extraction is done, the starch is washed, dried, and grounded into a fine paste. It is primarily utilized as a binder, stabilizer, and thickener in several foods & broad range of recipes.
Market Insights & Analysis: Global Potato Starch Market (2023-28):
The Global Potato Starch Market size reached USD 3.5 Billion in 2022 & is estimated to grow at a CAGR of around 2.1% during the forecast period, i.e., 2023-28. The ever-changing consumer preferences & their inclination towards completely plant-based food products are aiding in uplifting the demand graph of the market. Since the historical period, potato starch has been witnessing a great demand from the food & beverage industry owing to its qualities such as stabilizing, texturizing, and thickening, that is very much essential for preparing several kinds of food products. It is used in a wide range of foods, like sauces, soups, bakery, confectionary, processed foods, ready-to-eat meals, and others. Also, with the emerging need for processed, gluten-free, and processed food items, the usage of potato starch is presumed to up ride, eventually influencing the market growth.
Report Coverage

Details

Study Period
Historical Data: 2018-21
Base Year: 2022
Forecast Period: 2023-28
CAGR (2023-2028)
2.1%

Regions Covered

North America: US, Canada, Mexico

Europe: Germany, The UK, France, Spain, Italy, Rest of Europe

Asia-Pacific: China, India, Japan, South Korea, Australia, Rest of Asia-Pacific

South America: Brazil, Argentina, Rest of South America

Middle East & Africa: UAE, Saudi Arabia, South Africa, Rest of MEA

Key Companies Profiled

Emsland Group, Vimal PPCE, Tereos, Cargill, Pepees SA, KMC, Tate & Lyle, AVEBE, Roquette, Radchen USA INC., Royal Ingredients Group, SÜDSTÄRKE GMBH, Lyckeby, Argana Beteiligungs , AKV Langholt AMBA, Others

Market Value (2022)
USD 3.5 Billion
Presently, with the escalating percentage of diseases due to food habits, most of the population across the globe is preferring to intake healthy & plant-based organic food that doesn't consist of any artificial preservatives. Hence, the majority of the food & beverage industry is adopting potato starch as an add-on to their food products to serve fully plant-based healthy food to consumers. In line with this, plant-based & clean label products are expected to contribute to heightening the demand for potato-based derivatives. The starch of potatoes is becoming a very choice over other starches, including corn, wheat, rice, etc., due to the excellent binding power, high consistency, flexible file formation, and low gelatinization temperature.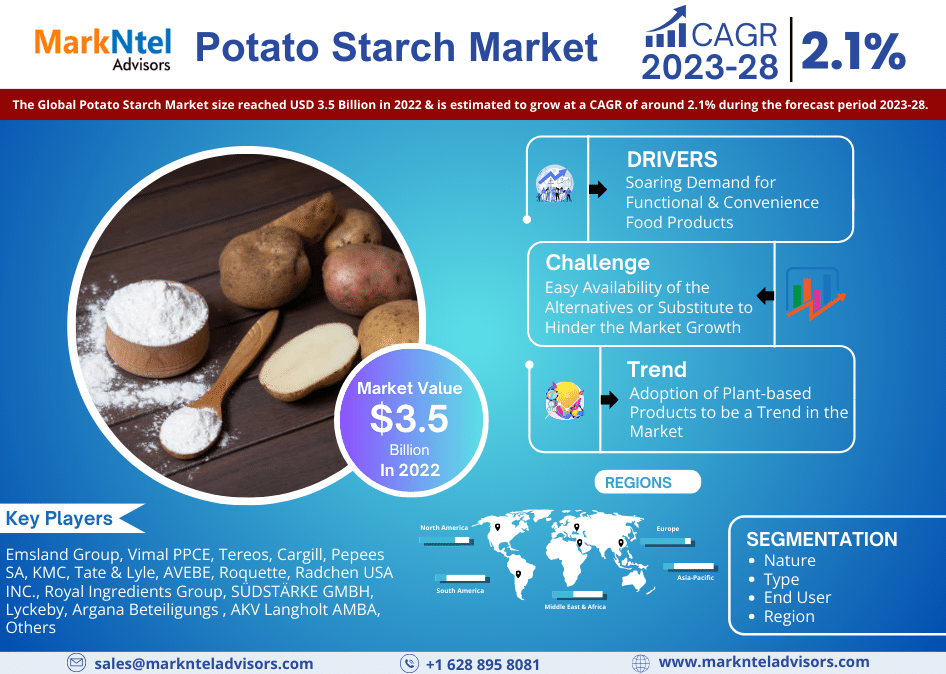 Starch has also been utilized in the industrial sector as a result of its many applications, such as deforming, encapsulating, emulsifiers, etc. The requirement for potato starch is emerging from numerous industrial sectors as they have the ability to impart textural characteristics & help in the formation of a gel-like substance or films used for producing industrial goods. The starch is chemically & physically modified to enhance its quality for better performance in various industrial applications
This, in turn, is also emphasizing creating a positive market outlook in the future period. Furthermore, numerous expansions, investments, agreements, and collaborations across the sectors like industrial and food & beverage are also presumed to support upscaling the demand growth of the potato starch market size. .
Global Potato Starch Market Driver:
Soaring Demand for Functional & Convenience Food Products – The growing consumer inclination towards healthy & functional foods and dietary supplements to stay healthy & active is acting as one of the prominent drivers pushing the market growth. The surging awareness about micronutrient deficiencies, rising health concerns, ever-increasing disposable income, etc., across the globe, is generating the demand for functional foods, which is eventually influencing the Market. Moreover, with the ever-changing lifestyle convenience food products that are becoming part of the regular diet of individuals in numerous regional countries, especially in developed countries are also predicted to boost the potato starch market.
Convenience foods are ready-to-eat food & are pre-packed as they provide convenience & aid in saving long cooking time like traditional cooking. In these food products, starch is added to enhance the functional properties. Thus, owing to its enhancing quality, demand for potato starch is predicted to soar, further driving the global potato starch market growth in the coming years as well.
Global Potato Starch Market Opportunity:
Booming Popularity of Natural Ingredients & Clean Label – Clean-label and natural food products are becoming more & more prevalent among consumers & are creating a large opportunistic arena for the Global Potato Starch Market in the forecast years. Being a naturally generated substance, potato starch is a great fit for clean-label & natural food products. By promoting potato starch as a sustainable alternative for food makers aiming to satisfy customer preferences, the potato starch-producing industry may take advantage of the emerging need for clean-label ingredients, further affecting the Potato Starch Market price, eventually elevating the revenue growth of the market during 2023-28.
Global Potato Starch Market Challenge:
Easy Availability of the Alternatives or Substitute to Hinder the Market Growth – Owing to the easy availability of the alternatives, such as corn, wheat, rice, tapioca, and several others, the market for potato starch is anticipated to witness a challenge, as there are wide ranges of alternatives. These substitute starches have similar properties to potato starch & with some differences in accordance to the chemical & nutrient content that makes them an alternative choice for several industries. These substitutes also have more health benefits than potato starch & have a strong footprint in several industries over the historical periods & are projected to have the same hold in the coming periods.
Global Potato Starch Market Trend:
Adoption of Plant-based Products to be a Trend in the Market – In recent years, most individuals are getting aware of environmental sustainability & animal welfare, which is pushing several individuals to opt for plant-based food items or other products. This is creating a huge demand for potato starch as an alternative to animal-based ingredients, which is observed to be trending in the market. The perception about the health benefits of plant-based products & rising adoption of veganism globally is pushing the manufacturer's interest to produce starch-based items, thus upsurging the demand of the potato starch market during the forthcoming period.
Global Potato Starch Market (2023-28): Segmentation Analysis
The Global Potato Starch Market study of MarkNtel Advisors evaluates & highlights the major trends & influencing factors in each segment & includes predictions for the period 2023–2028 at the global, regional, and national levels. Based on the analysis, the market has been further classified as:
Based on Nature:
The Organic segment is expected to capture the potential market share owing to the surging adoption of organic products in the globally. Consumers are increasingly seeking food products that are organically produced & are healthy to consume. In line with this, to suffice the emerging demand for organic food products, an appearance or growth in the organic food industry has been witnessed, which would require organic ingredients like potato starch to produce organic products as per the rising preference, thus positively impacting the Potato Starch Market growth.
Based on End User:
Bakery and Confectionery
Beverages
Processed Food
Other Applications
Paper
Pharmaceuticals
Cosmetics
Biodegradable Plastic
Others
The Food & Beverage Industry is presumed to be the potential end-user in the Global Potato Starch Market. Potato starch plays a major role in producing several food items, like convenience foods, functional foods, gluten-free foods, etc., owing to its great binding & thickening quality. It is also becoming one of the potential natural ingredients in a wide range of processed & ready-to-eat food items due to the soaring consumer preference towards plant-based or organic food products, which is further encouraging the market growth during the forecast period.
Global Potato Starch Market Regional Projection
Geographically, the Global Potato Starch Market expands across:
North America
South America
Europe
The Middle East & Africa
Asia-Pacific
The Global Potato Starch Market has been dominated by the European Region since the historical period. The Netherlands, Germany, and France are among the nations that manufacture & export the most potato starch. Europe benefits from a long tradition of potato production & processing, a solid infrastructure, and cutting-edge starch extraction technologies. The demand for potato starch is fueled by the region's substantial involvement in the food industry & the emerging preference for naturally produced food products.
Furthermore, North America is also presumed to be one of the prominent regions to capture a satisfactory market share. The appetite for potato starch is affected by the region's highly developed food processing industry, various customer preferences, and the presence of significant food producers. Potato starch is increasingly used in a variety of food applications in North America due to the rising popularity of clean-label ingredients & gluten-free goods.
Global Potato Starch Industry Recent Development:
2022: Emsland Group announced the completion of facility named WaltrAut, where new roller drying units with autoclaves are installed. It was constructed to produce plant-based ingrdients, like potato starch.
Gain a Competitive Edge with Our Global Potato Starch Market Report
Global Potato Starch Market report provides a detailed and thorough analysis of market size, growth rate, competitive landscape, and key players. This comprehensive analysis helps businesses gain a holistic understanding of the market dynamics and make informed decisions.
This report also highlights current market trends and future projections, allowing businesses to identify emerging opportunities and potential challenges. By understanding market forecasts, companies can align their strategies and stay ahead of the competition.
Global Potato Starch Market report aids in assessing and mitigating risks associated with entering or operating in the market.
The report would help in understanding market dynamics, regulatory frameworks, and potential challenges, businesses can develop strategies to minimize risks and optimize their operations.
Frequently Asked Questions
A. The Potato Starch market is presumed to grow at a CAGR of around 2.1%.
A. Soaring demand for functional & convenience food products to act a significant driving factor in the Potato Starch Market during 2023-28.
A. Emsland Group, Vimal PPCE, Tereos, Cargill Incorporated, Pepees S.A., KMC, Tate & Lyle, AVEBE, Roquette, Radchen USA Inc, Royal Ingredients Group, Sudstarke GmbH, Lyckeby, Agrana Beteiligungs, AKV Langholt AMBA, and Others are the top players in the Potato Starch Market
A. Europe, followed by North America to considered as the leading regions in the Potato Starch Market during 2023-28.
A. Adoption of plant-based products to be a trend in the Potato Starch Market.
A. Booming popularity of natural ingredients & clean label to create lucrative opportunity in the market through 2028.
A. Easy availability of the alternatives or substitute to hinder the Potato Starch Market growth.
Global Potato Starch Market Research Report (2023-2028) - Table of Contents
Market Segmentation
Introduction

Product Definition
Research Process
Assumptions

Executive Summary
Global Potato Starch Market Regulations and Policy
Global Potato Starch Market Trends & Developments
Global Potato Starch Market Value Chain Analysis
Global Potato Starch Market Dynamics

Drivers
Challenges

Global Potato Starch Market Hotspot & Opportunities
Global Potato Starch Market Outlook, 2018-2028F

Market Size & Analysis

By Revenues (USD Million)
By Quantity Sold (Tons)

Market Share & Analysis

By Nature

Organic- Market Size & Forecast 2018-2028, (Tons)
Conventional- Market Size & Forecast 2018-2028, (Tons)

By Type

Native- Market Size & Forecast 2018-2028, (Tons)
Modified- Market Size & Forecast 2018-2028, (Tons)

By End User

Food and Beverages - Market Size & Forecast 2018-2028, (Tons)

Bakery and Confectionery Products- Market Size & Forecast 2018-2028, (Tons)
Beverages- Market Size & Forecast 2018-2028, (Tons)
Processed Foods- Market Size & Forecast 2018-2028, (Tons)
Other Applications- Market Size & Forecast 2018-2028, (Tons)

Noodles- Market Size & Forecast 2018-2028, (Tons)
Ready to Eat Snacks- Market Size & Forecast 2018-2028, (Tons)

Feed- Market Size & Forecast 2018-2028, (Tons)
Industrial- Market Size & Forecast 2018-2028, (Tons)

Paper- Market Size & Forecast 2018-2028, (Tons)
Pharmaceuticals- Market Size & Forecast 2018-2028, (Tons)
Cosmetics- Market Size & Forecast 2018-2028, (Tons)
Biodegradable Plastic- Market Size & Forecast 2018-2028, (Tons)
Others- Market Size & Forecast 2018-2028, (Tons)

By Region

North America
South America
Europe
The Middle East & Africa
Asia-Pacific

By Company

Market Share
Competition Characteristics

North America Potato Starch Market Outlook, 2018-2028F

Market Size & Analysis

By Revenues (USD Million)
By Quantity Sold (Tons)

Market Share & Analysis

By Nature - Market Size & Forecast 2018-2028, (Tons)
By Type- Market Size & Forecast 2018-2028, (Tons)
By End User- Market Size & Forecast 2018-2028, (Tons)
By Country

The US
Canada
Mexico

The US Potato Starch Market Outlook, 2018-2028F

Market Size & Analysis

By Revenues (USD Million)
By Quantity Sold (Tons)

Market Share & Analysis

By Nature - Market Size & Forecast 2018-2028, (Tons)
By Type- Market Size & Forecast 2018-2028, (Tons)
By End User- Market Size & Forecast 2018-2028, (Tons)

Canada Potato Starch Market Outlook, 2018-2028F

Market Size & Analysis

By Revenues (USD Million)
By Quantity Sold (Tons)

Market Share & Analysis

By Nature - Market Size & Forecast 2018-2028, (Tons)
By Type- Market Size & Forecast 2018-2028, (Tons)
By End User- Market Size & Forecast 2018-2028, (Tons)

Mexico Potato Starch Market Outlook, 2018-2028F

Market Size & Analysis

By Revenues (USD Million)
By Quantity Sold (Tons)

Market Share & Analysis

By Nature - Market Size & Forecast 2018-2028, (Tons)
By Type- Market Size & Forecast 2018-2028, (Tons)
By End User- Market Size & Forecast 2018-2028, (Tons)

South America Potato Starch Market Outlook, 2018-2028F

Market Size & Analysis

By Revenues (USD Million)
By Quantity Sold (Tons)

Market Share & Analysis

By Nature - Market Size & Forecast 2018-2028, (Tons)
By Type- Market Size & Forecast 2018-2028, (Tons)
By End User- Market Size & Forecast 2018-2028, (Tons)
By Country

Brazil
Argentina
Rest of South America

Brazil Potato Starch Market Outlook, 2018-2028F

Market Size & Analysis

By Revenues (USD Million)
By Quantity Sold (Tons)

Market Share & Analysis

By Nature - Market Size & Forecast 2018-2028, (Tons)
By Type- Market Size & Forecast 2018-2028, (Tons)
By End User- Market Size & Forecast 2018-2028, (Tons)

Argentina Potato Starch Market Outlook, 2018-2028F

Market Size & Analysis

By Revenues (USD Million)
By Quantity Sold (Tons)

Market Share & Analysis

By Nature - Market Size & Forecast 2018-2028, (Tons)
By Type- Market Size & Forecast 2018-2028, (Tons)
By End User- Market Size & Forecast 2018-2028, (Tons)

Europe Potato Starch Market Outlook, 2018-2028F

Market Size & Analysis

By Revenues (USD Million)
By Quantity Sold (Tons)

Market Share & Analysis

By Nature - Market Size & Forecast 2018-2028, (Tons)
By Type- Market Size & Forecast 2018-2028, (Tons)
By End User- Market Size & Forecast 2018-2028, (Tons)
By Country

Germany
The UK
France
Italy
Spain
Rest of Europe

Germany Potato Starch Market Outlook, 2018-2028F

Market Size & Analysis

By Revenues (USD Million)
By Quantity Sold (Tons)

Market Share & Analysis

By Nature - Market Size & Forecast 2018-2028, (Tons)
By Type- Market Size & Forecast 2018-2028, (Tons)
By End User- Market Size & Forecast 2018-2028, (Tons)

The UK Potato Starch Market Outlook, 2018-2028F

Market Size & Analysis

By Revenues (USD Million)
By Quantity Sold (Tons)

Market Share & Analysis

By Nature - Market Size & Forecast 2018-2028, (Tons)
By Type- Market Size & Forecast 2018-2028, (Tons)
By End User- Market Size & Forecast 2018-2028, (Tons)

France Potato Starch Market Outlook, 2018-2028F

Market Size & Analysis

By Revenues (USD Million)
By Quantity Sold (Tons)

Market Share & Analysis

By Nature - Market Size & Forecast 2018-2028, (Tons)
By Type- Market Size & Forecast 2018-2028, (Tons)
By End User- Market Size & Forecast 2018-2028, (Tons)

Italy Potato Starch Market Outlook, 2018-2028F

Market Size & Analysis

By Revenues (USD Million)
By Quantity Sold (Tons)

Market Share & Analysis

By Nature - Market Size & Forecast 2018-2028, (Tons)
By Type- Market Size & Forecast 2018-2028, (Tons)
By End User- Market Size & Forecast 2018-2028, (Tons)

Spain Potato Starch Market Outlook, 2018-2028F

Market Size & Analysis

By Revenues (USD Million)
By Quantity Sold (Tons)

Market Share & Analysis

By Nature - Market Size & Forecast 2018-2028, (Tons)
By Type- Market Size & Forecast 2018-2028, (Tons)
By End User- Market Size & Forecast 2018-2028, (Tons)

The Middle East and Africa Potato Starch Market Outlook, 2018-2028F

Market Size & Analysis

By Revenues (USD Million)
By Quantity Sold (Tons)

Market Share & Analysis

By Nature - Market Size & Forecast 2018-2028, (Tons)
By Type- Market Size & Forecast 2018-2028, (Tons)
By End User- Market Size & Forecast 2018-2028, (Tons)

South Africa
The UAE
Saudi Arabia
Rest of Middle East and Africa

South Africa Potato Starch Market Outlook, 2018-2028F

Market Size & Analysis

By Revenues (USD Million)
By Quantity Sold (Tons)

Market Share & Analysis

By Nature - Market Size & Forecast 2018-2028, (Tons)
By Type- Market Size & Forecast 2018-2028, (Tons)
By End User- Market Size & Forecast 2018-2028, (Tons)

The UAE Potato Starch Market Outlook, 2018-2028F

Market Size & Analysis

By Revenues (USD Million)
By Quantity Sold (Tons)

Market Share & Analysis

By Nature - Market Size & Forecast 2018-2028, (Tons)
By Type- Market Size & Forecast 2018-2028, (Tons)
By End User- Market Size & Forecast 2018-2028, (Tons)

Saudi Arabia Potato Starch Market Outlook, 2018-2028F

Market Size & Analysis

By Revenues (USD Million)
By Quantity Sold (Tons)

Market Share & Analysis

By Nature - Market Size & Forecast 2018-2028, (Tons)
By Type- Market Size & Forecast 2018-2028, (Tons)
By End User- Market Size & Forecast 2018-2028, (Tons)

Asia-Pacific Potato Starch Market Outlook, 2018-2028F

Market Size & Analysis

By Revenues (USD Million)
By Quantity Sold (Tons)

Market Share & Analysis

By Nature - Market Size & Forecast 2018-2028, (Tons)
By Type- Market Size & Forecast 2018-2028, (Tons)
By End User- Market Size & Forecast 2018-2028, (Tons)
By Country

China
Japan
Australia
India
South Korea
Rest of Asia Pacific

China Potato Starch Market Outlook, 2018-2028F

Market Size & Analysis

By Revenues (USD Million)
By Quantity Sold (Tons)

Market Share & Analysis

By Nature - Market Size & Forecast 2018-2028, (Tons)
By Type- Market Size & Forecast 2018-2028, (Tons)
By End User- Market Size & Forecast 2018-2028, (Tons)

Japan Potato Starch Market Outlook, 2018-2028F

Market Size & Analysis

By Revenues (USD Million)
By Quantity Sold (Tons)

Market Share & Analysis

By Nature - Market Size & Forecast 2018-2028, (Tons)
By Type- Market Size & Forecast 2018-2028, (Tons)
By End User- Market Size & Forecast 2018-2028, (Tons)

Australia Potato Starch Market Outlook, 2018-2028F

Market Size & Analysis

By Revenues (USD Million)
By Quantity Sold (Tons)

Market Share & Analysis

By Nature - Market Size & Forecast 2018-2028, (Tons)
By Type- Market Size & Forecast 2018-2028, (Tons)
By End User- Market Size & Forecast 2018-2028, (Tons)

India Potato Starch Market Outlook, 2018-2028F

Market Size & Analysis

By Revenues (USD Million)
By Quantity Sold (Tons)

Market Share & Analysis

By Nature - Market Size & Forecast 2018-2028, (Tons)
By Type- Market Size & Forecast 2018-2028, (Tons)
By End User- Market Size & Forecast 2018-2028, (Tons)

South Korea Potato Starch Market Outlook, 2018-2028F

Market Size & Analysis

By Revenues (USD Million)
By Quantity Sold (Tons)

Market Share & Analysis

By Nature - Market Size & Forecast 2018-2028, (Tons)
By Type- Market Size & Forecast 2018-2028, (Tons)
By End User- Market Size & Forecast 2018-2028, (Tons)

Competitive Outlook

Company Profiles

Emsland Group

Business Description
Product Portfolio
Strategic Alliances or Partnerships
Recent Developments
Financial Details
Others

Vimal PPCE

Business Description
Product Portfolio
Strategic Alliances or Partnerships
Recent Developments
Financial Details
Others

Tereos

Business Description
Product Portfolio
Strategic Alliances or Partnerships
Recent Developments
Financial Details
Others

Cargill Incorporated

Business Description
Product Portfolio
Strategic Alliances or Partnerships
Recent Developments
Financial Details
Others

Pepees S.A.

Business Description
Product Portfolio
Strategic Alliances or Partnerships
Recent Developments
Financial Details
Others

KMC

Business Description
Product Portfolio
Strategic Alliances or Partnerships
Recent Developments
Financial Details
Others

Tate & Lyle

Business Description
Product Portfolio
Strategic Alliances or Partnerships
Recent Developments
Financial Details
Others

AVEBE

Business Description
Product Portfolio
Strategic Alliances or Partnerships
Recent Developments
Financial Details
Others

Roquette

Business Description
Product Portfolio
Strategic Alliances or Partnerships
Recent Developments
Financial Details
Others

Radchen USA Inc

Business Description
Product Portfolio
Strategic Alliances or Partnerships
Recent Developments
Financial Details
Others

Royal Ingredients Group

Business Description
Product Portfolio
Strategic Alliances or Partnerships
Recent Developments
Financial Details
Others

Sudstarke GmbH

Business Description
Product Portfolio
Strategic Alliances or Partnerships
Recent Developments
Financial Details
Others

Lyckeby

Business Description
Product Portfolio
Strategic Alliances or Partnerships
Recent Developments
Financial Details
Others

Agrana Beteiligungs

Business Description
Product Portfolio
Strategic Alliances or Partnerships
Recent Developments
Financial Details
Others

AKV Langholt AMBA

Business Description
Product Portfolio
Strategic Alliances or Partnerships
Recent Developments
Financial Details
Others

Others

Business Description
Product Portfolio
Strategic Alliances or Partnerships
Recent Developments
Financial Details
Others

Disclaimer