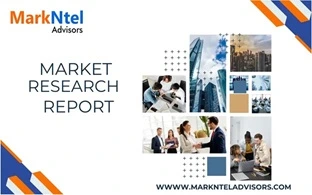 Global In-Cabin Automotive AI (Artificial Intelligence) Market Research Report: Forecast (2022-2027)
By Application (Occupant Monitoring System, Driver Monitoring System, Conversation Assistance, Smart HVAC), By Product (Radar, Camera, Voice Assistant, Smart Sensor), By Level of A
...
utomation (Level 0, Level 1, Level 2, Level 3, Level 4, Level 5), By Vehicle Price Category (Budget (Up to USD30,000), Economy (USD30,001 to USD 50,000), Premium (Above USD50,000)), By Region (North America, South America, Europe, Asia-Pacific), By Country (The US, Canada, Mexico, Germany, The UK, Italy, France, China, India, China, Japan, South Korea), By Company (Visteon Corporation, Ambarella, Inc., Eyeris Technologies, Inc., Seeing Machines Limited, Cipia Vision Ltd., Valeo SA, Faurecia SE, Robert Bosch GmbH, Hyundai Mobis, Denso Corporation, NXP Semiconductors N.V., ZF Friedrichshafen AG, Aptiv PLC, Qualcomm Inc., Renesas Electronics Corporation)
Read more
Automotive

Dec 2021

234

AT33009
Market Definition
With growing competition in the automotive industry on delivering more enhanced, safer, and personalized features, the demand for in-cabin AI is dramatically increasing since it is one of the major trends in all future cars. The AI-powered car cabin helps personalize the inside environment and offers a deep understanding of actions happening inside the vehicle to enhance passenger safety & experience. Also, it identifies the state of the passenger, driver, & the entire cabin, which helps drivers in the decision-making process.
Market Insights
The Global In-Cabin Automotive Artificial Intelligence (AI) Market is anticipated to grow at a CAGR of around 40% during the forecast period, i.e., 2022-27. With the mounting trend of self-driving cars and the incorporation of advanced features in most vehicles, the demand for integrating AI in car cabins is astronomically rising.
Report Coverage

Details

Study Period
Historical Data: 2017-20
Base Year: 2021
Forecast Period: 2022-27
CAGR (2022-27)
40%

Regions Covered

North America: The US, Canada, Mexico

Europe: Germany, UK, France, Russia

Asia-Pacific: China, India, Japan, South Korea, and Others

Key Companies Profiled

Visteon Corporation Ambarella, Inc. Eyeris Technologies, Inc. Seeing Machines Limited Cipia Vision Ltd. Valeo SA Faurecia SE Robert Bosch GmbH Hyundai Mobis Denso Corporation NXP Semiconductors N.V. ZF Friedrichshafen AG Aptiv PLC Qualcomm Inc. Renesas Electronics Corporation

Unit Denominations

USD Million/Billion
Nowadays, interiors & inside features have become the most crucial factor for any brand to enhance their brand loyalty and increase their customer base. Therefore, automakers are focusing on offering additional values to their customers by providing an advanced cabin ecosystem.
In-cabin automotive AI solutions can help avoid car accidents caused by human errors. The prime goal of these solutions is customizing the in-cabin environment and adding safety & entertainment features as per the need of drivers & passengers. For instance:
In 2021, Mahindra, an Indian automobile manufacturer launched XUV 700 model with built-in Alexa, voice-enabled window & climate control, find parking, etc. The model also includes AI-based features like Intelligent headlamps, radars, collision avoidance systems, smart door handles, intelligent lane assist systems, auto emergency braking, etc. The existing model has been launched in India with an initial price of USD 17 thousand and extending to USD 31 thousand, which provides In-cabin AI-enabled features to masses in the entry-level to mid-range cars.
Moreover, several distractions like mobile phones can lead to road accidents. According to WHO, people using mobile phones while driving are approximately 4 times more susceptible to road accidents than those who do not. Nevertheless, using in-cabin AI solutions can help enhance safety by identifying drivers' actions and providing assistance while making the right decision.
Impact of Covid-19 on the Global In-Cabin Automotive Artificial Intelligence (AI) Market
In 2020, the Covid-19 pandemic severely impacted the Global In-Cabin Automotive AI Market, mainly due to the disruption in the cross-border trade of automotive components, interruption in large-scale manufacturing, and shut down of assembly plants. It, in turn, placed extreme pressure on the automotive industry, which is already coping with the decline in global demand.
Further, due to the adverse effects on demand & sales in the automotive industry, manufacturers shifted their capital allocation on continuing operations. Hence, the shortage of R&D funding for integrating advanced technologies in vehicles negatively influenced the overall market.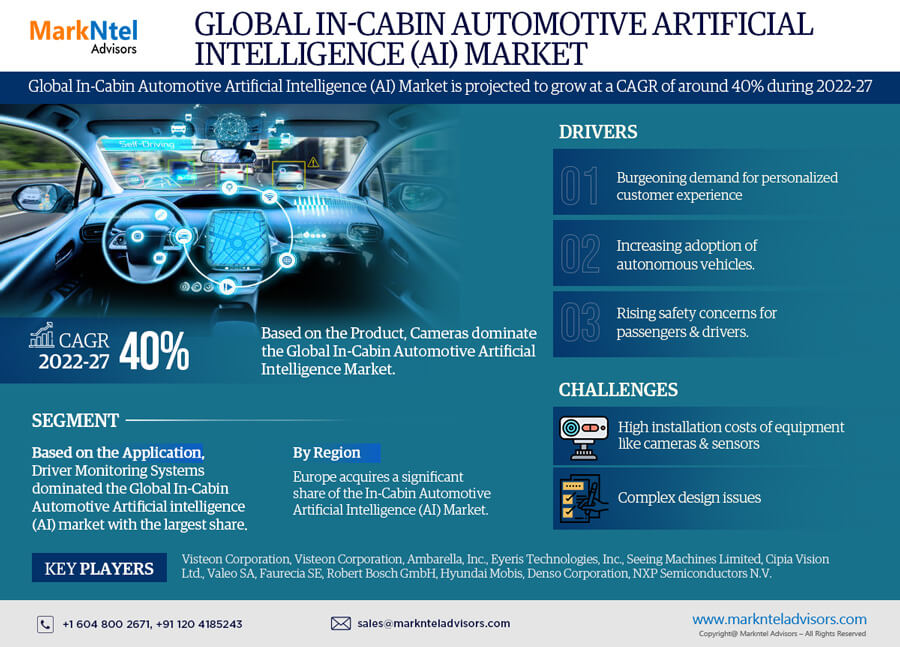 Market Segmentation
By Application:
Occupant Monitoring System
Driver Monitoring System
Conversation Assistance
Smart HVAC
Driver Monitoring System Acquired the Largest Share of the In-Cabin Automotive Artificial Intelligence (AI) Market
The driver monitoring system helps improve driver safety by monitoring & analyzing their behavior in real-time and ensuring they are focused on the road. This system integrates sensors, cameras, and other intelligent components to gather information about the driver, which enables safety & assistance functions in the vehicle.
According to WHO, nearly 1.3 million people die every year worldwide due to road traffic crashes. Around 20 to 50 million people suffer non-fatal injuries, which results in disability. The driver monitoring system can also help reduce the risk of accidents by enabling drivers to make sound decisions as per the situation.
Moreover, these systems recognize driver behavior and automatically apply personalized settings to provide a more exclusive in-cabin atmosphere to ensure safety. They also warn the driver when there is a distraction or drowsiness, thereby further aiding their safety. Hence, owing to the aspects cited above, the demand for such systems has been rapidly mounting worldwide.
By Product:
Radar
Camera
Voice Assistant
Smart Sensor
Cameras are used extensively for parking assist, lane assist, auto braking, and intelligent headlight adjustments. The monitoring system includes a Charge-Coupled Device (CCD) camera to track the driver's eye. The deployment of the camera can improve driver, passenger, & road safety and allows the vehicle to know the driver's state of mind & offer assistance as per the requirements.
In addition, cameras in the cabin identify the authenticity of the person sitting on the driver's seat, which is a beneficial feature in ride-sharing to enhance passenger's safety. The camera can detect unusual actions and can warn the driver by alarms. It, as a result, allows the driver to take appropriate action on time. Hence, these aspects are leading to the booming demand for cameras, which, in turn, is driving the global market.
Regional Landscape:
North America
South America
Europe
Asia-Pacific
Of them all, Europe grabbed a significant share in the Global In-Cabin Automotive AI Market during 2017-21. A high level of AI integration in the automotive industry across countries like Germany, France, and the UK are the prime factors attributing to the regional market growth.
Besides, the mounting demand for advanced technologies and high consumer disposable income across Europe also contributes to the overall market growth. Further, the presence of several luxury automotive brands and the rising trend of autonomous vehicles is also fueling the adoption of In-Cabin Artificial Intelligence in vehicles to offer customers features worth their money & status.
During 2017-21, Volkswagen, one of the largest automotive manufacturers announced to collaborate with Microsoft Azure for the development of AI-powered vehicles. In addition, the company announced to form an independent subsidiary car software to improve the coordination for AI among the Volkswagen group, which includes Audi, Skoda, Lamborghini, Porsche, etc. Hence, with such advancements, Europe has a significant share of the in-cabin automotive AI market.
Market Dynamics:
Key Drivers
Increasing demand for personalized customer experience.
Burgeoning demand for autonomous vehicles
Rising safety concerns associated with car driving
Growth Challenges
High cost of installing components like CCD cameras and infrared LED detectors
Shortage of proper infrastructure
Complex design issues
Key Questions Answered in the Market Research Report:
What are the overall statistics or estimates (Overview, Size- By Value, Forecast Numbers, Segmentation, Shares) of the Global In-Cabin Automotive Artificial Intelligence (AI) Market?
What is the region-wise industry size, growth drivers, and challenges?
What are the key innovations, opportunities, current & future trends, and regulations in the Global In-Cabin Automotive Artificial Intelligence (AI) Market?
Who are the key competitors, their key strengths & weaknesses, and how they perform in the Global In-Cabin Automotive Artificial Intelligence (AI) Market based on a competitive benchmarking matrix?
What are the key results derived from surveys conducted during the Global In-Cabin Automotive Artificial Intelligence (AI) Market study?
Frequently Asked Questions
A. The In-Cabin Automotive Artificial Intelligence Market is projected to grow at a CAGR of around 40% during 2022-27
A. The Driver Monitoring System has the largest market share and is projected to offer remunerative growth opportunities to the leading players in the market.
A. Europe is projected to witness the fastest market growth during 2022-27 and present lucrative growth opportunities to the leading players in the market
A. The mounting demand for autonomous vehicles and increasing road safety concerns are the key factors driving the In-Cabin Automotive Artificial Intelligence (AI) Market during 2022-27.
A. Post-Covid-19 pandemic, the In-Cabin Automotive Artificial Intelligence (AI) Market shall grow steadily owing to the resumption of automotive manufacturing units.
Introduction

Research Process
Assumption
Market Segmentation
Market Definition

Executive Summary
Global In Cabin Automotive Artificial Intelligence (AI) Trends & Insights
Global In Cabin Automotive Artificial Intelligence (AI) Dynamics

Growth Drivers
Challenges
Impact Analysis

Global In Cabin Automotive Artificial Intelligence (AI) Value Chain Analysis
Global In Cabin Automotive Artificial Intelligence (AI) Hotspot and Opportunities
Global In Cabin Automotive Artificial Intelligence (AI) Outlook, 2017- 2027F

Market Size and Analysis

By Revenues

Market Share and Analysis

By Application

Occupant Monitoring System
Driver Monitoring System
Conversation Assistance
Smart HVAC
Others

By Product

Radar
Camera
Voice Assistant
Smart Sensor
Others

By Level of Automation

Level 0
Level 1
Level 2
Level 3
Level 4
Level 5

By Vehicle Price Category

Budget (Up to USD30,000)
Economy (USD30,001 to USD 50,000)
Premium (Above USD50,000)

By Region

North America
South America
Europe
Asia-Pacific

By Company

Competition Characteristics
Revenue Shares
Competitor Placement in MarkNtel Quadrant

North America In Cabin Automotive Artificial Intelligence (AI) Outlook, 2017- 2027F

Market Size and Analysis

By Revenues

Market Share and Analysis

By Application
By Product
By Level of Automation
By Vehicle Price Category
By Country

The US
Canada
Mexico

The US In Cabin Automotive Artificial Intelligence (AI) Outlook, 2017- 2027F

Market Size and Analysis

By Revenues

Market Share and Analysis

By Application
By Product

Canada In Cabin Automotive Artificial Intelligence (AI) Outlook, 2017- 2027F

Market Size and Analysis

By Revenues

Market Share and Analysis

By Application
By Product

Mexico In Cabin Automotive Artificial Intelligence (AI) Outlook, 2017- 2027F

Market Size and Analysis

By Revenues

Market Share and Analysis

By Application
By Product

South America In Cabin Automotive Artificial Intelligence (AI) Outlook, 2017- 2027F

Market Size and Analysis

By Revenues

Market Share and Analysis

By Application
By Product
By Level of Automation
By Vehicle Price Category

Europe In Cabin Automotive Artificial Intelligence (AI) Outlook, 2017- 2027F

Market Size and Analysis

By Revenues

Market Share and Analysis

By Application
By Product
By Level of Automation
By Vehicle Price Category
By Country

Germany
The UK
France
Italy
Rest of Europe

Germany In Cabin Automotive Artificial Intelligence (AI) Outlook, 2017- 2027F

Market Size and Analysis

By Revenues

Market Share and Analysis

By Application
By Product

The UK In Cabin Automotive Artificial Intelligence (AI) Outlook, 2017- 2027F

Market Size and Analysis

By Revenues

Market Share and Analysis

By Application
By Product

France In Cabin Automotive Artificial Intelligence (AI) Outlook, 2017- 2027F

Market Size and Analysis

By Revenues

Market Share and Analysis

By Application
By Product

Italy In Cabin Automotive Artificial Intelligence (AI) Outlook, 2017- 2027F

Market Size and Analysis

By Revenues

Market Share and Analysis

By Application
By Product

Asia-Pacific In Cabin Automotive Artificial Intelligence (AI) Outlook, 2017- 2027F

Market Size and Analysis

By Revenues

Market Share and Analysis

By Application
By Product
By Level of Automation
By Vehicle Price Category
By Country

China
Japan
India
South Korea
Rest of Asia Pacific

China In Cabin Automotive Artificial Intelligence (AI) Outlook, 2017- 2027F

Market Size and Analysis

By Revenues

Market Share and Analysis

By Application
By Product

Japan In Cabin Automotive Artificial Intelligence (AI) Outlook, 2017- 2027F

Market Size and Analysis

By Revenues

Market Share and Analysis

By Application
By Product

India In Cabin Automotive Artificial Intelligence (AI) Outlook, 2017- 2027F

Market Size and Analysis

By Revenues

Market Share and Analysis

By Application
By Product

South Korea In Cabin Automotive Artificial Intelligence (AI) Outlook, 2017- 2027F

Market Size and Analysis

By Revenues

Market Share and Analysis

By Application
By Product

Global In Cabin Automotive Artificial Intelligence (AI) Key Strategic Imperatives for Success and Growth
Competitive Outlook

Competition Matrix

Application Portfolio
Brand Specialization
Target Markets
Target Applications
Research & Development
Strategic Alliances
Strategic Initiatives

Company Profiles (Business Description, Application Segments, Business Segments, Financials, Strategic Alliances/ Partnerships, Future Plans)

Visteon Corporation
Ambarella, Inc.
Eyeris Technologies, Inc.
Seeing Machines Limited
Cipia Vision Ltd.
Valeo SA
Faurecia SE
Robert Bosch GmbH
Hyundai Mobis
Denso Corporation
NXP Semiconductors N.V.
ZF Friedrichshafen AG
Aptiv PLC
Qualcomm Inc.
Renesas Electronics Corporation

Disclaimer