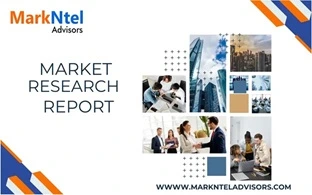 Global Automotive Lubricants Market Research Report: Forecast (2023-2028)
By Type (Engine Oil, Gear Oil, Transmission Fluids, Brake Fluids, Coolants, Greases), By Base-Oil Type Mineral Oil, Synthetic, Semi-Synthetic, Bio-Based Oil), By Vehicle Type (Pass
...
enger Cars, Light-Weight Commercial Vehicles, Heavy-Weight Commercial Vehicles, Two/Three Wheelers), By Region (North America, South America, Europe, Middle East & Africa, Asia-Pacific), By Company (Exxon Mobil, Royal Dutch Shell, British Petroleum, Total SA, Chevron Corp., Fuchs Group, Petronas Lubricant International Sdn, Amsoil Inc., Valvoline, Sinopec)
Read more
Automotive

Feb 2023

190

AT22002
Market Definition
The fluidic substances used for reducing friction between surfaces and preventing wear and tear of automobile components are automotive lubricants. They minimize the heat generated between parts, and efficiency and functioning improve critical components such as engines, hinges, bearings, and hydraulic gears. They are used for brake and fuel systems, body part stamping, transmission manufacturing, and other automotive mechanics.
Market Insights & Analysis: Global Automotive Lubricants Market (2023-28)
The Global Automotive Lubricants Market is projected to grow at a CAGR of around 5.0% during the forecast period, i.e., 2023-28. The market growth is owed principally to the surging demand for efficient automotive vehicles & the rising need for high-performance engines. Additionally, the rise in construction and agricultural activities further extends the requirement for lubricants for construction and agricultural vehicles, expanding the market. Furthermore, the rising number of on-road vehicles, private vehicles for transportation, economic stability, consumer affordability, and maintenance of both private and public vehicles fuels the elevation of the industry. Also, the presence of aging vehicles expands the scope of their care, further fueling the market growth.
Report Coverage

Details

Study Period
Historical Data: 2018-21
Base Year: 2022
Forecast Period: 2023-28
CAGR (2023-2028)
5.0%

Regions Covered

North America: US, Canada

Europe: Germany, The UK, France, Russia

Asia-Pacific: China, India, Japan, Australia

Latin America: Brazil, Mexico

Middle East & Africa: UAE, Saudi Arabia, South Africa

Key Companies Profiled

Exxon Mobil, Royal Dutch Shell, British Petroleum, Total SA, Chevron Corp., Fuchs Group, Petronas Lubricant International Sdn, Amsoil Inc., Valvoline, Sinopec

Unit Denominations
USD Million/Billion
With the focus of authorities and organizations on increasing vehicle production and awareness of suitable quality products extending the life and experience of vehicles, more application of it is bound to continue. Moreover, as the durability of vehicles is majorly dependent on the smooth working of parts, which is facilitated by engine oil, or other product types, the market is likely to propel exponentially during the forecasting period.
On the contrary, the emergence and adoption of electric vehicles pose a threat to the market. However, increasing inclination towards luxurious, modern, and durable vehicles and demand for fuel efficiency to maintain the vehicle's performance is likely to propel industrial expansion.
Market Dynamics
Key Driver: Expansion of the Automotive Industry Presenting the Demand for Frequent Lubrication
The automotive industry is expanding with the rise in disposable income, the addition of advanced features, and consumer desire to own a passenger or another vehicle. This industrial growth has driven the industry, as lubricants play a vital role in the smooth working of engines and vehicles. Their characteristics of durability, vehicle protection, reduction of friction between the engine parts, and more are essential to extend vehicle life, especially regularly. Thus the industry has been driven by the conventional desire to maintain the quality and smoothness of engines and vehicles.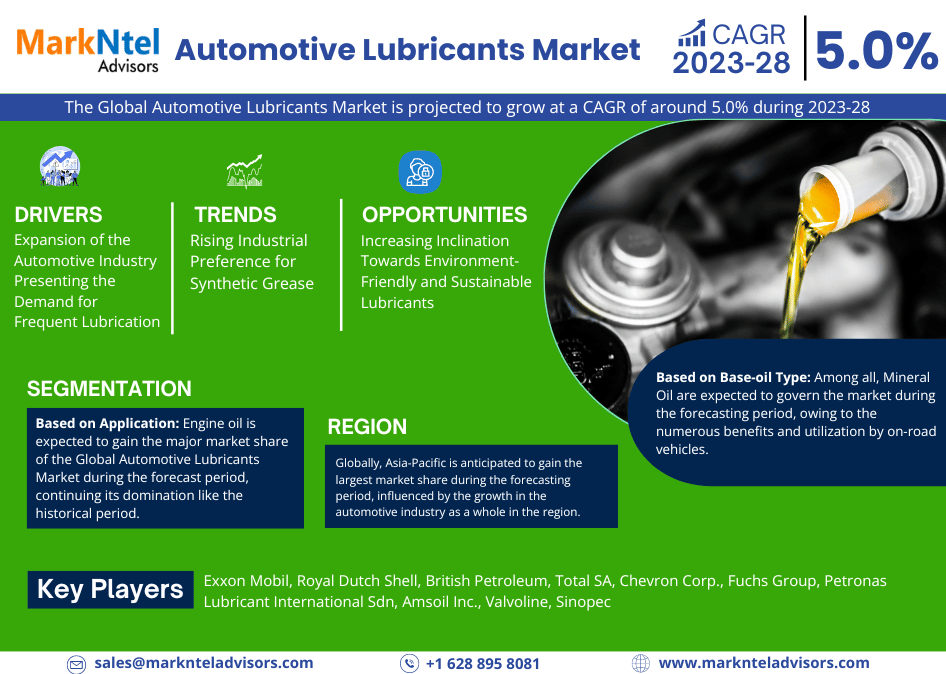 Possible Restraint: The Increasing Emergence of Electric Vehicles Outpacing ICE Variants
With the addition of technology and further advancement in the automotive sectors, the emergence of electric vehicles is gaining traction globally. However, it impedes as a threat to the industry as it diminishes the requirement for engine oil or grease as a whole by replacing the engine with an electric motor. Thus, increasing sales and adoption of electric vehicles pose a threat to the industry. Besides, the presence of lesser components and parts in the vehicles and the depreciation of various parts with the implementation of technology and advanced gadgets further pose a hindrance to the automotive lubricant market.
Growth Opportunity: Increasing Inclination Towards Environment-Friendly and Sustainable Lubricants
The rising usage of different lubricants is expected to surge the market growth. Additionally, the increasing environmental awareness among consumers and manufacturers to reduce the avoidable impact of some aspects and products by adopting alternative options like bio-based over mineral variants pose a growth opportunity for the industry. A consumer shift could be expected with synthetic greases, which undergo extensive treatment to enhance their performance, and degradable and environment friendly bio-lubricants. These products offer improved fuel efficiency, enhanced hardware capability, and lower emissions. With the rise in environmental concerns, the industry is presented with a growth opportunity to expand four-dimensionally. For instance,
In February 2021, Royal Dutch Shell stated that it would offer consumers carbon-neutral greases for heavy-duty diesel engines, passenger automobiles, and industrial uses to assist consumers in managing their sustainability needs.
Key Trend: Rising Industrial Preference for Synthetic Grease
Increasing awareness about the usage of synthetic lubricants leading to a rise in their utilization has garnered the industry's interest. Synthetic oil provides better lubrication than mineral oils, causing a shift in consumers to opt more for synthetic ones. Moreover, the trend of adopting new and better ways to enhance vehicle productivity and automotive functions by both consumers and manufacturers is leading to a moderate flow of endorsement of these greases. For instance,
In April 2021, Valvoline Inc. introduced Valvoline High Mileage 150k with MaxLife Plus technology synthetic blend, the engine oil explicitly formulated for engines with more than 150,000 miles. Furthermore, governmental bodies are also establishing minimum standards for such products to control rising emissions resulting in rising applications of low-viscosity greases such as synthetic or semi-synthetic oils, fueling the market growth.
Market Segmentation
Based on Application
Engine Oil
Gear Oil
Transmission Fluids
Brake Fluids
Coolants
Greases
Engine oil is expected to gain the major market share of the Global Automotive Lubricants Market during the forecast period, continuing its domination like the historical period. The segment's rise is aided by the utilization and requirement of engine oil to ensure the continuous working of engines by creating a thin film between the moving parts to enhance the transfer of heat and reduce tension during the contact of different parts.
The primary purpose of engine oil is to minimize wear and tear and friction on moving parts and prevent varnish and sludge, ensuring the quality and the whole process smoothly. By lubricating internal combustion engines, protecting them from corrosion, and ensuring smooth operation of the engine, it performs an essential role in the functioning of the vehicle; thus, the requirement for regular application of engine oil enthralls the market's elevation.
Additionally, the surging number of gasoline and diesel vehicles further safeguards the utilization of engine oils. Moreover, commercial and high-duty vehicles such as tractors, off-the-road vehicles in construction and farming, trucks, and others require engine oil for healthy functioning. As a result, they are less likely to be replaced by other technologies ensuring industrial growth.
Based on Base-oil Type
Mineral Oil
Synthetic
Semi-synthetic
Bio-based Oil
Among all, Mineral Oil are expected to govern the market during the forecasting period, owing to the numerous benefits and utilization by on-road vehicles. Also referred to as Regular and Conventional oils, Mineral oils have temperature-resisting properties along with cohesion and strength, enabling the adoption of engine oils for lubrication and superior protection of engines. Additionally, the formulation quality of mineral oil in various levels and viscosity complement simple machines, further exemplifying the industry.
On the other hand, Synthetic lubricants are also expected to garner a significant share, attributing to better temperature performance, extended drain intervals, reduced friction, improved fuel economy, and growth in engine power. Rising as an alternative option for mineral oil, synthetic greases are garnering the attention of automotive manufacturers, fluctuating in the market positively.
Regional Projection
Geographically, the Global Automotive Lubricants Market expands across:
North America
South America
Europe
The Middle East & Africa
Asia-Pacific
Globally, Asia-Pacific is anticipated to gain the largest market share during the forecasting period, influenced by the growth in the automotive industry as a whole in the region. The rising population, coupled with surging urbanization, is fueling the demand for automotive vehicles. The region's government also focuses on replacing obsolete cars, increasing the demand for upgraded, high-quality products. The high sales of vehicles combined with lubrication required for maintenance of sold vehicles are collectively aiding in the market expansion.
Besides coinciding, China is the largest automotive manufacturer and a hub for all related industries, while India possesses one of the leading markets. For instance, In March 2021, Nissan Motor India signed an agreement with ExxonMobil variant to supply lubricating solutions for the passenger vehicle aftermarket. Likewise, the presence of major industries and the bolstering amount of on-road vehicles in countries like China, India, Indonesia, Japan, and South Korea has increased the consumption and application. In addition, rising disposable income is further surging demands for passenger vehicles, strengthening the market for engine oils, brake fluids, etc., in the region.
Moreover, the region's marine industry, with numerous ports and rising trade activities with other economies, fosters lucrative opportunities for the industry, as it would result in the extended application. Along similar lines, with the advent of further industrialization and installing various manufacturing plants, lubricant application would also widen, extending the market growth.
Recent Developments in the Market
In July 2022, Royal Dutch Shell USA, Inc. and Shell Midstream Partners, L.P. announced the execution of a definitive agreement and plan of merger. Shell USA will acquire all the common units representing limited partner interests in SHLX.
In July 2021, Valvoline launched All-Terrain, a new engine oil designed specifically for off-highway, heavy-duty diesel engines that operate in challenging environments such as construction, mining, and agriculture.
Gain a Competitive Edge with Our Global Automotive Lubricants Market Report
Global Automotive Lubricants Market Report by MarkNtel Advisors provides a detailed & thorough analysis of market size & share, growth rate, competitive landscape, and key players. This comprehensive analysis helps businesses gain a holistic understanding of the market dynamics & make informed decisions.
This report also highlights current market trends & future projections, allowing businesses to identify emerging opportunities & potential challenges. By understanding market forecasts, companies can align their strategies & stay ahead of the competition.
Global Automotive Lubricants Market Report aids in assessing & mitigating risks associated with entering or operating in the market. By understanding market dynamics, regulatory frameworks, and potential challenges, businesses can develop strategies to minimize risks & optimize their operations.
Frequently Asked Questions
A. The Automotive Lubricants Market is projected to grow at a CAGR of around 5.0% during 2023-28.
A. Expansion of the automotive industry presenting the demand for frequent lubrication is expected to drive the automotive lubricants market during 2023-28.
A. Exxon Mobil, Royal Dutch Shell, British Petroleum, Total SA, Chevron Corp., Fuchs Group, Petronas Lubricant International Sdn, Amsoil Inc., Vavoline, Sinopec are the top players in the Automotive Lubricants Market.
A. Engine oil is anticipated to emerge as an area of remunerative opportunities for the leading players in the automotive lubricants market.
A. Globally, Asia-Pacific would provide lucrative prospects for the automotive lubricants market in the years ahead.
A. Rising industrial interest in synthetic grease is the key trend shaping the growth of the automotive lubricants market.
A. Adoption of environmental friendly and sustainable lubricant are the growth opportunities driving the automotive lubricants market through 2028.
A. The increasing emergence of electric vehicles outpacing ICE variants is the possible restraint affecting the growth of the automotive lubricants market.
Introduction

Research Process
Assumption
Market Segmentation
Market Definition

Executive Summary
Expert Verbatim- What our Experts Say?
Global Automotive Lubricants Market Outlook, 2018- 2028F

Market Size and Analysis

By Revenues
By Quantity

Market Share and Analysis

By Type

Engine Oil
Gear Oil
Transmission Fluids
Brake Fluids
Coolants
Greases

By Base-Oil Type

Mineral Oil
Synthetic
Semi-Synthetic
Bio-Based Oil

By Vehicle Type

Passenger Cars
Light-Weight Commercial Vehicles
Heavy-Weight Commercial Vehicles
Two/Three Wheelers

By Region

North America
South America
Europe
Middle East & Africa
Asia-Pacific

By Company

Revenue Shares
Strategic Factorial Indexing
Competitor Placement in Markntel Quadrant

North America Automotive Lubricants Market Outlook, 2018- 2028F

Market Size and Analysis

By Revenues
By Quantity

Market Share and Analysis

By Application
By Base-Oil Type
By Vehicle Type
By Country

US
Canada

The US Automotive Lubricants Market Outlook, 2018- 2028F

Market Size and Analysis

By Revenues
By Quantity

Market Share and Analysis

By Application
By Base-Oil Type
By Vehicle Type

Canada Automotive Lubricants Market Outlook, 2018- 2028F

Market Size and Analysis

By Revenues
By Quantity

Market Share and Analysis

By Application
By Base-Oil Type
By Vehicle Type

Latin America Automotive Lubricants Market Outlook, 2018- 2028F

Market Size and Analysis

By Revenues
By Quantity

Market Share and Analysis

By Application
By Base-Oil Type
By Vehicle Type
By Country

Brazil
Mexico

Brazil Automotive Lubricants Market Outlook, 2018- 2028F

Market Size and Analysis

By Revenues
By Quantity

Market Share and Analysis

By Application
By Base-Oil Type
By Vehicle Type

Mexico Automotive Lubricants Market Outlook, 2018- 2028F

Market Size and Analysis

By Revenues
By Quantity

Market Share and Analysis

By Application
By Base-Oil Type
By Vehicle Type

Europe Automotive Lubricants Market Outlook, 2018- 2028F

Market Size and Analysis

By Revenues
By Quantity

Market Share and Analysis

By Application
By Base-Oil Type
By Vehicle Type
By Country

Germany
Russia
France
UK

Germany Automotive Lubricants Market Outlook, 2018- 2028F

Market Size and Analysis

By Revenues
By Quantity

Market Share and Analysis

By Application
By Base-Oil Type
By Vehicle Type

Russia Automotive Lubricants Market Outlook, 2018- 2028F

Market Size and Analysis

By Revenues
By Quantity

Market Share and Analysis

By Application
By Base-Oil Type
By Vehicle Type

France Automotive Lubricants Market Outlook, 2018- 2028F

Market Size and Analysis

By Revenues
By Quantity

Market Share and Analysis

By Application
By Base-Oil Type
By Vehicle Type

UK Automotive Lubricants Market Outlook, 2018- 2028F

Market Size and Analysis

By Revenues
By Quantity

Market Share and Analysis

By Application
By Base-Oil Type
By Vehicle Type

Middle East & Africa Automotive Lubricants Market Outlook, 2018- 2028F

Market Size and Analysis

By Revenues
By Quantity

Market Share and Analysis

By Application
By Base-Oil Type
By Vehicle Type
By Country

Saudi Arabia
UAE
South Africa

Saudi Arabia Automotive Lubricants Market Outlook, 2018- 2028F

Market Size and Analysis

By Revenues
By Quantity

Market Share and Analysis

By Application
By Base-Oil Type
By Vehicle Type

UAE Automotive Lubricants Market Outlook, 2018- 2028F

Market Size and Analysis

By Revenues
By Quantity

Market Share and Analysis

By Application
By Base-Oil Type
By Vehicle Type

Asia-Pacific Automotive Lubricants Market Outlook, 2018- 2028F

Market Size and Analysis

By Revenues
By Quantity

Market Share and Analysis

By Application
By Base-Oil Type
By Vehicle Type
By Country

China
India
Japan
Australia

China Automotive Lubricants Market Outlook, 2018- 2028F

Market Size and Analysis

By Revenues
By Quantity

Market Share and Analysis

By Application
By Base-Oil Type
By Vehicle Type

India Automotive Lubricants Market Outlook, 2018- 2028F

Market Size and Analysis

By Revenues
By Quantity

Market Share and Analysis

By Application
By Base-Oil Type
By Vehicle Type

Japan Automotive Lubricants Market Outlook, 2018- 2028F

Market Size and Analysis

By Revenues
By Quantity

Market Share and Analysis

By Application
By Base-Oil Type
By Vehicle Type

Australia Automotive Lubricants Market Outlook, 2018- 2028F

Market Size and Analysis

By Revenues
By Quantity

Market Share and Analysis

By Application
By Base-Oil Type
By Vehicle Type

Global Automotive Lubricants Market Policies, Regulations, Application Standards
Global Automotive Lubricants Market Trends & Insights
Global Automotive Lubricants Market Dynamics

Growth Drivers
Challenges
Impact Analysis

Global Automotive Lubricants Market Hotspot and Opportunities
Global Automotive Lubricants Market Key Strategic Imperatives for Success and Growth
Competitive Outlook

Competition Matrix

Application Portfolio
Brand Specialization
Target Markets
Target Applications
Research & Development
Strategic Alliances
Strategic Initiatives

Company Profiles (Business Description, Application Segments, Business Segments, Financials, Strategic Alliances/ Partnerships, Future Plans)

Exxon Mobil
Royal Dutch Shell
British Petroleum
Total SA
Chevron Corp.
Fuchs Group
Petronas Lubricant International Sdn
Amsoil Inc.
Valvoline
Sinopec

Disclaimer