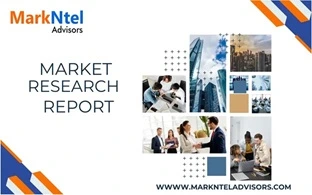 Global Emergency Lighting Market Analysis, 2020
By Type (Self-Sustained Systems, Centrally Supplied Systems), By Application (Stand by, Escape Route), By End Users (Industrial, Offices, Retail, Healthcare, Hospitality, Others),
...
By Region (North America, Latin America, Europe, Middle East & Africa and Asia-Pacific), By Country (United States, Canada, Mexico, Brazil, Argentina, Germany, Western Europe, Eastern Europe, Central Europe, CIS, UAE, Saudi Arabia, South Africa, Egypt, China, India, Japan, South Korea), By Company
Read more
FMCG

Jan 2020

252

CG22003
According to MarkNtel Advisors' research report titled "Global Emergency Lighting Market Analysis, 2020", the Emergency Lighting market is projected to register a CAGR of around 7% during 2020-25. North America dominated the Global Emergency Lighting market in 2019. The highest market share is attributed to the developments in advanced emergency lighting applications. Moreover, the Middle East region is projected to register growth in the global market during the forecast period. The objective of the Middle Eastern countries to diversify from the oil-based economy to focus more on hospitality and tourism sectors has revived many construction projects, which would positively impact the demand for emergency lighting systems.
Report Coverage
Details

Study Period

Historical Data: 2015-19

Base Year: 2019

Forecast Period: 2020-25

Regions Covered

North America

Europe

Asia-Pacific

South America

Middle East & Africa

Unit Denominations

USD Million/Billion
The commercial sector remains the largest sector for emergency lighting sales due to its compliance with emergency lighting requirements before occupation. Moreover, the large number of facilities and high operations in the commercial sector bolsters its market share in the Global Emergency Lighting market.
According to MarkNtel Advisors, the major players who have captured significant market share in the Global Emergency Lighting market include Acuity Brands, Eaton Corporation, ABB, Zumtobel Corporation, Beghelli, Hubbel Lighting, Signify, Daisalux, etc. The companies are introducing a new product range to gain a competitive edge in the industry.
Frequently Asked Questions
1. Introduction
1.1. Product Definition
1.2. Research Process
1.3. Assumptions
1.4. Market Segmentation
2. Executive Summary
3. Expert Verbatim- What our Experts Say?
4. Global Emergency Lighting Market Outlook, 2015-2025F
4.1. Market Size & Analysis
4.1.1. Market Revenues
4.2. Market Share & Analysis
4.2.1. By Product Type
4.2.1.1. Self-Sustained System
4.2.1.2. Centrally Supplied System
4.2.2. By Application
4.2.2.1. Stand by
4.2.2.2. Escape Route
4.2.2.2.1. Anti-Panic
4.2.2.2.2. Signage
4.2.3. By End User
4.2.3.1. Industrial
4.2.3.2. Offices
4.2.3.3. Retail
4.2.3.4. Hospitality
4.2.3.5. Healthcare
4.2.3.6. Others (Education, Public Infrastructure, Utilities)
4.2.4. By Distribution Channel
4.2.4.1. Electrical Contractor
4.2.4.2. Construction Companies
4.2.4.3. Electrical Distributors
4.2.4.4. Direct Sales
4.2.5. By Region
4.2.5.1. North America
4.2.5.2. South America
4.2.5.3. Europe
4.2.5.4. Middle East & Africa
4.2.5.5. Asia Pacific
4.2.6. By Companies
4.2.6.1. Revenue Shares
4.2.6.2. Strategic Factorial Indexing
4.2.6.3. Competitor Placement in MarkNtel Quadrant
5. Global Emergency Lighting Market Attractiveness Index
5.1. By Product Type
5.2. By Application
5.3. By End User
5.4. By Distribution Channel
5.5. By Region
6. North America Emergency Lighting Market Outlook, 2015-2025F
6.1. Market Size & Analysis
6.1.1. Market Revenues
6.2. Market Share & Analysis
6.2.1. By Product Type
6.2.2. By End User
6.2.3. By Application
6.2.4. By Distribution Channel
6.2.5. By Country
6.2.5.1. US
6.2.5.2. Canada
6.3. US Emergency Lighting Market Outlook, 2015-2025F
6.3.1. Market Size & Analysis
6.3.1.1. Market Revenues
6.3.2. Market Share & Analysis
6.3.2.1. By Product Type
6.3.2.2. By End User
6.3.2.3. By Application
6.3.2.4. By Distribution Channel
6.4. Canada Emergency Lighting Market Outlook, 2015-2025F
6.4.1. Market Size & Analysis
6.4.1.1. Market Revenues
6.4.2. Market Share & Analysis
6.4.2.1. By Product Type
6.4.2.2. By End User
6.4.2.3. By Application
6.4.2.4. By Distribution Channel
7. Europe Emergency Lighting Market Outlook, 2015-2025F
7.1. Market Size & Analysis
7.1.1. Market Revenues
7.2. Market Share & Analysis
7.2.1. By Product Type
7.2.2. By End User
7.2.3. By Application
7.2.4. By Distribution Channel
7.2.5. By Region
7.2.5.1. Western Europe
7.2.5.2. Eastern Europe
7.2.5.3. Central Europe
7.2.5.4. CIS
7.3. Western Europe Emergency Lighting Market Outlook, 2015-2025F
7.3.1. Market Size & Analysis
7.3.1.1. Market Revenues
7.3.2. Market Share & Analysis
7.3.2.1. By Product Type
7.3.2.2. By End User
7.3.2.3. By Application
7.3.2.4. By Distribution Channel
7.4. Eastern Europe Emergency Lighting Market Outlook, 2015-2025F
7.4.1. Market Size & Analysis
7.4.1.1. Market Revenues
7.4.2. Market Share & Analysis
7.4.2.1. By Product Type
7.4.2.2. By End User
7.4.2.3. By Application
7.4.2.4. By Distribution Channel
7.5. Central Europe Emergency Lighting Market Outlook, 2015-2025F
7.5.1. Market Size & Analysis
7.5.1.1. Market Revenues
7.5.2. Market Share & Analysis
7.5.2.1. By Product Type
7.5.2.2. By End User
7.5.2.3. By Application
7.5.2.4. By Distribution Channel
7.6. CIS Emergency Lighting Market Outlook, 2015-2025F
7.6.1. Market Size & Analysis
7.6.1.1. Market Revenues
7.6.2. Market Share & Analysis
7.6.2.1. By Product Type
7.6.2.2. By End User
7.6.2.3. By Application
7.6.2.4. By Distribution Channel
8. Latin America Emergency Lighting Market Outlook, 2015-2025F
8.1. Market Size & Analysis
8.1.1. Market Revenues
8.2. Market Share & Analysis
8.2.1. By Product Type
8.2.2. By End User
8.2.3. By Application
8.2.4. By Distribution Channel
8.2.5. By Companies
8.2.6. By Country
8.2.6.1. Brazil
8.2.6.2. Argentina
8.2.6.3. Mexico
8.2.6.4. Others
8.3. Brazil Emergency Lighting Market Outlook, 2015-2025F
8.3.1. Market Size & Analysis
8.3.1.1. Market Revenues
8.3.2. Market Share & Analysis
8.3.2.1. By Product Type
8.3.2.2. By End User
8.3.2.3. By Application
8.3.2.4. By Distribution Channel
8.4. Argentina Emergency Lighting Market Outlook, 2015-2025F
8.4.1. Market Size & Analysis
8.4.1.1. Market Revenues
8.4.2. Market Share & Analysis
8.4.2.1. By Product Type
8.4.2.2. By End User
8.4.2.3. By Application
8.4.2.4. By Distribution Channel
8.5. Mexico Emergency Lighting Market Outlook, 2015-2025F
8.5.1. Market Size & Analysis
8.5.1.1. Market Revenues
8.5.2. Market Share & Analysis
8.5.2.1. By Product Type
8.5.2.2. By End User
8.5.2.3. By Application
8.5.2.4. By Distribution Channel
9. APAC Emergency Lighting Market Outlook, 2015-2025F
9.1. Market Size & Analysis
9.1.1. Revenues
9.2. Market Share & Analysis
9.2.1. By Product Type
9.2.2. By End User
9.2.3. By Application
9.2.4. By Distribution Channel
9.2.5. By Companies
9.2.6. By Country
9.2.6.1. India
9.2.6.2. China
9.2.6.3. South Korea
9.2.6.4. Japan
9.2.6.5. Others
9.3. India Emergency Lighting Market Outlook, 2015-2025F
9.3.1. Market Size & Analysis
9.3.1.1. Market Revenues
9.3.2. Market Share & Analysis
9.3.2.1. By Product Type
9.3.2.2. By End User
9.3.2.3. By Application
9.3.2.4. By Distribution Channel
9.4. China Emergency Lighting Market Outlook, 2015-2025F
9.4.1. Market Size & Analysis
9.4.1.1. Market Revenues
9.4.2. Market Share & Analysis
9.4.2.1. By Product Type
9.4.2.2. By End User
9.4.2.3. By Application
9.4.2.4. By Distribution Channel
9.5. South Korea Emergency Lighting Market Outlook, 2015-2025F
9.5.1. Market Size & Analysis
9.5.1.1. Market Revenues
9.5.2. Market Share & Analysis
9.5.2.1. By Product Type
9.5.2.2. By End User
9.5.2.3. By Application
9.5.2.4. By Distribution Channel
9.6. Japan Emergency Lighting Market Outlook, 2015-2025F
9.6.1. Market Size & Analysis
9.6.1.1. Market Revenues
9.6.2. Market Share & Analysis
9.6.2.1. By Product Type
9.6.2.2. By End User
9.6.2.3. By Application
9.6.2.4. By Distribution Channel
10. Middle East & Africa Emergency Lighting Market Outlook, 2015-2025F
10.1.Market Size & Analysis
10.1.1. Revenues
10.2.Market Share & Analysis
10.2.1. By Product Type
10.2.2. By End User
10.2.3. By Application
10.2.4. By Distribution Channel
10.2.5. By Companies
10.2.6. By Country
10.2.6.1. Saudi Arabia
10.2.6.2. UAE
10.2.6.3. Egypt
10.2.6.4. South Africa
10.2.6.5. Others
10.3.Saudi Arabia Emergency Lighting Market Outlook, 2015-2025F
10.3.1. Market Size & Analysis
10.3.1.1. Market Revenues
10.3.2. Market Share & Analysis
10.3.2.1. By Product Type
10.3.2.2. By End User
10.3.2.3. By Application
10.3.2.4. By Distribution Channel
10.4.UAE Emergency Lighting Market Outlook, 2015-2025F
10.4.1. Market Size & Analysis
10.4.1.1. Market Revenues
10.4.2. Market Share & Analysis
10.4.2.1. By Product Type
10.4.2.2. By End User
10.4.2.3. By Application
10.4.2.4. By Distribution Channel
10.5.Egypt Emergency Lighting Market Outlook, 2015-2025F
10.5.1. Market Size & Analysis
10.5.1.1. Market Revenues
10.5.2. Market Share & Analysis
10.5.2.1. By Product Type
10.5.2.2. By End User
10.5.2.3. By Application
10.5.2.4. By Distribution Channel
10.6.South Africa Emergency Lighting Market Outlook, 2015-2025F
10.6.1. Market Size & Analysis
10.6.1.1. Market Revenues
10.6.2. Market Share & Analysis
10.6.2.1. By Product Type
10.6.2.2. By End User
10.6.2.3. By Application
10.6.2.4. By Distribution Channel
11. Global Emergency Lighting Market Policy & Regulations
12. Global Emergency Lighting Market Trends & Developments
13. Global Emergency Lighting Market Dynamics
13.1.Impact Analysis
13.2.Drivers
13.3.Challenges
14. Global Emergency Lighting Market Winning Strategies, 2019
14.1.Investment Scenario
14.2.Hotspots
15. Global Emergency Lighting Market Key Success Imperatives for Growth & Success
16. Global Emergency Lighting Market Value Chain Analysis
17. Competitive Benchmarking
17.1.Competition Matrix
17.1.1. Product Portfolio
17.1.2. Target Markets
17.1.3. Target End Users
17.1.4. Research & Development
17.1.5. Strategic Alliances
17.2.Company Profiles (Business Description, Product Offering, Strategic Alliances or Partnerships, etc.)
17.2.1. Acuity Brands
17.2.2. Eaton Corporation
17.2.3. ABB
17.2.4. Zumtobel Corporation
17.2.5. Beghelli
17.2.6. Hubbel Lighting
17.2.7. Signify
17.2.8. Daisalux
17.2.9. Zemper
17.2.10. RZB
18. Disclaimer