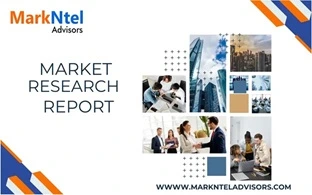 Saudi Arabia Digital Wallet Market Research Report: Forecast (2023-2028)
By Technology (Near Field Communication, QR Code, Text-based/ Short Message Service, Digital Only), By Industry Vertical (Banking, Financial Services, and Insurance [BFSI], Hospita
...
lity, Media & Entertainment, Retail & E-Commerce, Energy & Utilities, Telecommunication, Others), By Type (Remote, Proximity), By End-User (Personal, Business/Corporate), By Wallet Type (Open, Closed, Semi-Closed), By Ownership (Banks, Telecom Operators, Device Manufacturers, Tech Companies), By Region (Central, East, West, South), By Company (STC Pay, Geidea Solutions, Hala, UrPay, Mobily Pay, Alinma Pay, Friendi Pay, Liv KSA, Meem, Mada Pay, Quick Pay, HyperPay, Others)
Read more
ICT & Electronics

Jul 2023

102

IT55074
Market Definition
Digital Wallets are applications that allow consumers to store their funds and make transactions through mobile phones, smart watches, etc. They streamline the payment process and eliminate the need for carrying physical currency or the hassle of managing multiple cards, thus ensuring a seamless & user-friendly payment experience.
Market Insights & Analysis: Saudi Arabia Digital Wallet Market (2023-28):
The Saudi Arabia Digital Wallet Market is projected to grow at a CAGR of around 8.80% during the forecast period, i.e., 2023-28. The market growth would be propelled mainly by the surging usage of mobile banking apps across the country due to the increased internet & smartphone penetration. According to the Communication, Space, and Technology (CST) Commission, in 2022, Saudi Arabia witnessed a surge of about 35 million terabytes in total internet usage. In addition, it experienced approximately a 17% year-on-year increase in internet consumption rates in the same year.
As a result of this growing internet connectivity, most residents in the country are ow use smartphones for financial transactions, thus driving the digital wallet market. End-Users perceive digital wallets as a convenient & hassle-free payment option as they provide a seamless & user-friendly interface for making payments, transferring funds, and managing finances. Along with it, the incorporation of advanced security features like encryption and biometric authentication in digital payment applications has resulted in users feeling confident about the safety of their transactions, contributing to market growth.
Report Coverage

Details

Study Period
Historical Data: 2018-21
Base Year: 2022
Forecast Period: 2023-28
CAGR (2023-2028)
8.80%

Region Covered

Central, East, West, South

Key Companies Profiled

STC Pay, Geidea Solutions, Hala, UrPay, Mobily Pay, Alinma Pay, Friendi Pay, Liv KSA, Meem, Mada Pay, Quick Pay, HyperPay and Others

Unit Denominations
USD Million/Billion
Moreover, the rising incorporation of digital payment solutions into payment gateways of e-commerce platforms to ease the checkout process for users is also furthering the demand for digital wallets, which provide well-timed & secure transactions. As a result, e-commerce platforms encourage users to choose digital wallets over other methods for making payments. Thus, the booming e-commerce industry in Saudi Arabia continues to amplify the adoption of digital wallets.
Furthermore, the Saudi government has been laying out plans to encourage cashless transactions & promote digital solutions through initiatives like the Saudi Vision 2030 and the National Transformation Program (NTP) in order to increase accountability & transparency within the country. Digital wallets play a crucial role in the transition towards a cashless society as they provide a secure platform for storing funds and making transactions without the need for physical cash. Hence, the government's favorable policies & initiatives for creating an appropriate environment for these digital platforms would further propel the Saudi Arabia Digital Wallet Market growth in the coming years.
Saudi Arabia Digital Wallet Market Driver:
Growth of E-Commerce Platforms– The improved internet infrastructure and widespread adoption of smartphones in Saudi Arabia have led to a boost in internet penetration across the country. The increased internet accessibility in the country has served as an opportunity for the e-commerce platforms like Noon, Carrefour, etc., to widen consumer reach & increase market penetration. Moreover, the changing consumer preference for online shopping due to convenience & wider product accessibility is leading to the growth of e-commerce platforms in Saudi Arabia. According to MasterCard, in 2021, the country witnessed a rise of approximately 77% in online shopping.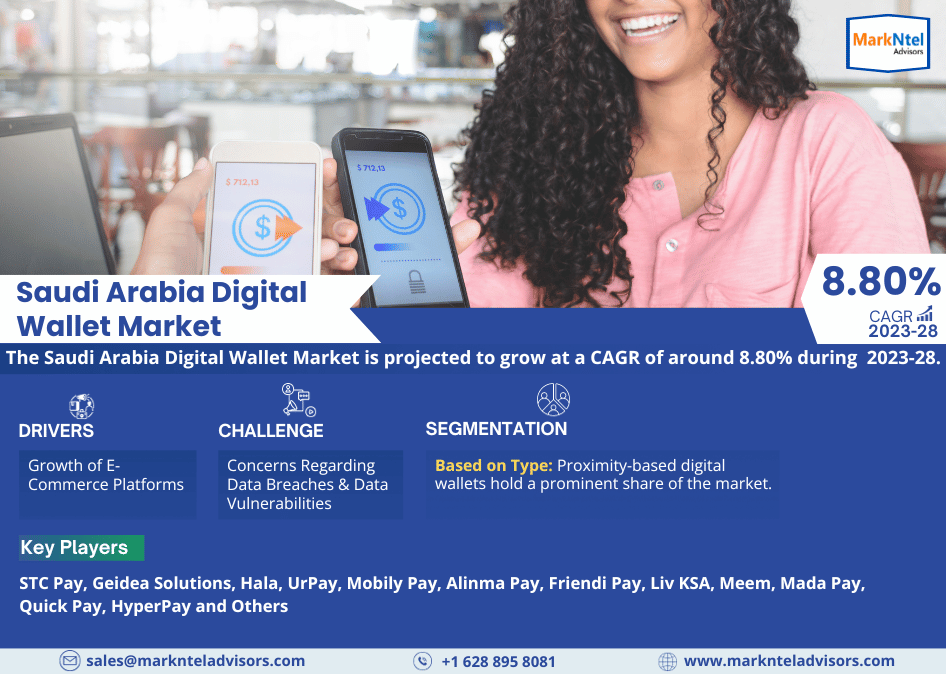 These e-commerce platforms have been increasingly incorporating digital wallet solutions in their applications to provide consumers with a streamlined checkout process and enhance the user experience. The convenience and faster payment experience offered by digital wallets is even encouraging consumers to shift towards digital wallets for payment in e-commerce. According to a survey by Checkout.com, in 2022, more than 27% of consumers made transactions through digital wallets. Thus, the surging usage of e-commerce platforms & the changing consumer transaction habits has been augmenting the growth of the digital wallet market in Saudi Arabia.
Moreover, the rising inclination of consumers toward online shopping is also resulting in the launches of new e-commerce platforms. For instance, in 2023, an e-commerce platform, 'Mytheresa', got launched in Saudi Arabia, which integrated different payment methods like transactions via a digital wallet. Thus, the surge in the inclination of consumers toward digital payment solutions & integration of e-commerce platforms and digital payment solutions would enhance the demand for digital wallets in the forthcoming years.
Saudi Arabia Digital Wallet Market Opportunity:
Favorable Government Policies for Encouraging Cashless Transactions – The government of Saudi Arabia has been increasingly deploying advanced technologies such as the Internet of Things (IoT), artificial intelligence (AI), and big data analytics in the financial sector to facilitate the country's digital transformation. The government aims to boost cashless transactions in the country to increase transparency and accountability since transactions via digital payment solutions leave an audit trail, which reduces the risk of tax evasion & money laundering. Thus, the rising initiatives like Digital Currency and others led by the government & financial institutions of Saudi Arabia to upscale the economy would lead to a surge in the adoption of digital wallets in Saudi Arabia.
Moreover, under Vision 2030, the government of Saudi Arabia aims to achieve around 70% cashless transactions in Saudi Arabia by improving its digital infrastructure, thereby enhancing the growth of Digital Wallets in Saudi Arabia in foreseen years.
Moreover, the government is also stimulating investments in the fintech sector to prompt the development of advanced digital wallet solutions, boosting the adoption of digital payment solutions. For instance, in 2023, Saudi Venture Company (SVC) in partnership with Capital Market Authority (CMA) announced an investment of around USD80 million to stimulate the market reach. Thus, the rising investment & the government-led initiatives would collectively generate higher consumer demand for digital wallets, making them a favored choice for conducting financial payments in the forthcoming years.
Saudi Arabia Digital Wallet Market Challenge:
Concerns Regarding Data Breaches & Data Vulnerabilities – The demand for digital wallets in Saudi Arabia is affected by security concerns. While digital wallets typically implement robust security measures, the perception of risk or instances of security breaches undermine consumer confidence and hinder adoption. Notable data breaches such as ransomware attacks, phishing attacks, etc., or fraudulent cases connected to digital wallets cause apprehension among consumers since users perceive digital wallets as susceptible to hacking or unauthorized access. According to the survey by Group IB, more than 29% of the companies in Saudi Arabia fell prey to cyber-attack incidents, causing the data of millions of consumers at risk. Therefore, consumers are reluctant to store their sensitive payment information in a digital format or digital banking solutions.
In addition, Saudi Arabia encounters internet connectivity challenges, particularly in remote or underserved areas. Hence, limited internet access or unreliable connectivity in some of the regions of Saudi Arabia impedes the smooth usage of digital wallets, thus limiting the market growth of Digital wallets in the country.
Saudi Arabia Digital Wallet Market Trend:
Increasing Adoption of the Blockchain Technology– The rise of blockchain technology is positively impacting the digital wallet market due to the surging integration of robust technology to enhance the security of advanced payment solutions. Digital wallet solution providers are now incorporating blockchain technology on their platforms to offer improved security, transparency, and decentralized control over transactions. For instance,
In 2022, WadzPay and Geidea partnered to deploy a digital wallet integrated with blockchain technology to facilitate pilgrims or travelers to set up their e-money wallets on their mobile devices, attracting users who value privacy and data protection.
Transactions based on blockchain technology create a permanent and tamper-proof record, enabling easy traceability and auditability of funds throughout the transaction process. This removes the requirement of third parties or intermediaries and simplifies cross-border transactions, further encouraging the adoption of digital wallets.
Moreover, blockchain technology has also decreased transaction costs linked to digital payments by eliminating intermediaries and optimizing the transaction processes. The eradication of additional fees, including those imposed by banks and third-party appointed by the merchant, serves as an advantage for businesses and consumers. Hence, the cost-effectiveness offered by digital wallets based on blockchain technology would accelerate the adoption of advanced banking solutions in the forthcoming years.
Saudi Arabia Digital Wallet Market (2023-28): Segmentation Analysis
The Saudi Arabia Digital Wallet Market study of MarkNtel Advisors evaluates & highlights the major trends & influencing factors in each segment & includes predictions for the period 2023–2028 at the national levels. Based on the analysis, the market has been further classified as:
Based on Type:
Of both, proximity-based digital wallets hold a prominent share of the market. These wallets provide a convenient and efficient method for enabling payments at physical point-of-sale terminals. Users effortlessly initiate transactions by tapping or waving their smartphones or smartwatches near contactless-enabled terminals. This eliminates the requirement of carrying physical payment cards or cash and expedites the checkout process at any store.
On the other hand, remote-based digital wallets often involve additional steps, such as entering login credentials or undergoing extra security measures to verify transactions during the checkout process. These extra steps are perceived to be inconvenient in contrast with traditional payment methods that only require entering card details. As a result, consumers seek to use alternative payment solutions rather than remote-based digital wallets. Thus, the share of the remote-based digital wallet is moderate in the Saudi Arabia Digital Wallet Market.
Based on Technology:
Near Field Communication
QR Code
Text Based/ Short Message Service
Digital Only
Among all, Near Field Communication (NFC) technology has gained broad acceptance and seamless integration into numerous payment terminals & merchant stores to simplify the payment process for users and thus hold a significant share of the Saudi Arabia Digital Wallet Market. The infrastructure necessary to facilitate NFC payments has been extensively developed & implemented by a multitude of merchants in the country. According to Saudi Arabia's national payments infrastructure operator, 'Saudi Payments', the NFC adoption in the country witnessed a 95% year-on-year growth in 2021 as compared to 2020. As a result, the wide adoption of NFC Technology to ensure quick & secure transactions contributes to its prominent share in the Saudi Arabia Digital Wallet Market.
Besides, several factors like seamless integration, cost-effectiveness, innovation, sustainability, and the transformative impact of the COVID-19 pandemic are also leading to the surge in the popularity of digital-only technology. Thus, the rising adoption of digital-only technology would result in a rise in the share of the Digital only in the Saudi Arabia Digital Wallet Market in the forthcoming years.
Saudi Arabia Digital Wallet Industry Recent Development:
In 2023, STC Pay showcased its latest services & solutions for the digital payments to pave way towards a cashless society and to raise the digital financial transaction rates by 70% by 2030. The company also signed several agreements and Memorandum of Understanding with e-commerce platforms & digital payment pioneers.
Gain a Competitive Edge with Our Saudi Arabia Digital Wallet Market Report
Saudi Arabia Digital Wallet Market report provides a detailed and thorough analysis of market size, growth rate, competitive landscape, and key players. This comprehensive analysis helps businesses gain a holistic understanding of the market dynamics and make informed decisions.
This report also highlights current market trends and future projections, allowing businesses to identify emerging opportunities and potential challenges. By understanding market forecasts, companies can align their strategies and stay ahead of the competition.
Saudi Arabia Digital Wallet Market report aids in assessing and mitigating risks associated with entering or operating in the market.
The report would help in understanding market dynamics, regulatory frameworks, and potential challenges, businesses can develop strategies to minimize risks and optimize their operations.
Frequently Asked Questions
A. The Saudi Arabia Digital Wallet Market is set to record around 8.80% CAGR during 2023-28.
A. Growth of e-commerce platforms is expected to drive the Saudi Arabia Digital Wallet Market during 2023-28.
A. The top players in the Saudi Arabia Digital Wallet Market are STC Pay, Geidea Solutions, Hala, UrPay, Mobily Pay, Alinma Pay, Friendi Pay, Liv KSA, Meem, Mada Pay, Quick Pay, HyperPay.
A. NFC is the leading technology in the Saudi Arabia Digital Wallet Market.
A. The integration of the blockchain technology into digital payment solutions is the key trend shaping the growth of the Saudi Arabia Digital Wallet Market.
A. Favorable government policies for promoting cashless transactions are projected to create lucrative prospects for the Saudi Arabia Digital Wallet Market through 2028.
A. Concerns regarding data breaches & data vulnerabilities are possible restraints affecting the growth of the Saudi Arabia Digital Wallet Market.
Market Segmentation
Introduction

Product Definition
Research Process
Assumptions

Executive Summary
Saudi Arabia Digital Wallet Market Consumer Survey

By Type of Transaction
By Purpose of Transaction
By Frequency of Transaction from Digital Wallet
Reasons for Transition Towards Digital Wallet

Saudi Arabia Digital Wallet Startups Ecosystem

Entrepreneurial Activity
Year-on-Year Funding Received
Funding Received by Top Companies
Key Investors Active in the Market
Series Wise Funding Received

Seed Funding
Angel Investing
Venture Capitalist (VC) Funding
Others

Saudi Arabia Digital Wallet Market Regulations and Policy
Saudi Arabia Digital Wallet Market Trends & Developments
Saudi Arabia Digital Wallet Market Dynamics

Drivers
Challenges

Saudi Arabia Digital Wallet Market Hotspot & Opportunities
Saudi Arabia Digital Wallet Market Outlook, 2018-2028F

Market Size & Analysis

By Revenues (USD Million)

Market Size & Analysis

By Type

Proximity- Market Size & Forecast 2018-2028F, USD Million
Remote- Market Size & Forecast 2018-2028F, USD Million

By Technology

Near Field Communication- Market Size & Forecast 2018-2028F, USD Million
QR Code- Market Size & Forecast 2018-2028F, USD Million
Text-Based/Short Message Service- Market Size & Forecast 2018-2028F, USD Million
Digital Only- Market Size & Forecast 2018-2028F, USD Million

By Wallet Type

Open- Market Size & Forecast 2018-2028F, USD Million
Closed- Market Size & Forecast 2018-2028F, USD Million
Semi-Closed- Market Size & Forecast 2018-2028F, USD Million

By Industry Vertical

Banking, Financial Services, and Insurance (BFSI)- Market Size & Forecast 2018-2028F, USD Million
Hospitality- Market Size & Forecast 2018-2028F, USD Million
Media & Entertainment - Market Size & Forecast 2018-2028F, USD Million
Retail & E-Commerce- Market Size & Forecast 2018-2028F, USD Million
Energy & Utilities- Market Size & Forecast 2018-2028F, USD Million
Telecommunication- Market Size & Forecast 2018-2028F, USD Million
Others (Healthcare, Gaming, etc.)- Market Size & Forecast 2018-2028F, USD Million

By End User

Personal- Market Size & Forecast 2018-2028F, USD Million
Business/Corporate- Market Size & Forecast 2018-2028F, USD Million

By Ownership

Banks- Market Size & Forecast 2018-2028F, USD Million
Telecom Operators- Market Size & Forecast 2018-2028F, USD Million
Device Manufacturers- Market Size & Forecast 2018-2028F, USD Million
Tech Companies- Market Size & Forecast 2018-2028F, USD Million

By Region

Central
East
West
South

By Competition

Competition Characteristics
Market Share of Top Companies, By Revenues

Saudi Arabia Near Field Communication Market Outlook, 2018-2028F

Market Size & Analysis

By Revenues (USD Million)

Market Share & Analysis

By Wallet Type- Market Size & Forecast 2018-2028F, USD Million
By Industry Vertical- Market Size & Forecast 2018-2028F, USD Million
By End User- Market Size & Forecast 2018-2028F, USD Million
By Ownership-- Market Size & Forecast 2018-2028F, USD Million

Saudi Arabia QR Code Market Outlook, 2018-2028F

Market Size & Analysis

By Revenues (USD Million)

Market Share & Analysis

By Wallet Type- Market Size & Forecast 2018-2028F, USD Million
By Industry Vertical- Market Size & Forecast 2018-2028F, USD Million
By End User- Market Size & Forecast 2018-2028F, USD Million
By Ownership-- Market Size & Forecast 2018-2028F, USD Million

Saudi Arabia Text Based/ Short Message Service Market Outlook, 2018-2028F

Market Size & Analysis

By Revenues (USD Million)

Market Share & Analysis

By Wallet Type- Market Size & Forecast 2018-2028F, USD Million
By Industry Vertical- Market Size & Forecast 2018-2028F, USD Million
By End User- Market Size & Forecast 2018-2028F, USD Million
By Ownership-- Market Size & Forecast 2018-2028F, USD Million

Saudi Arabia Digital Only Market Outlook, 2018-2028F

Market Size & Analysis

By Revenues (USD Million)

Market Share & Analysis

By Wallet Type- Market Size & Forecast 2018-2028F, USD Million
By Industry Vertical- Market Size & Forecast 2018-2028F, USD Million
By End User- Market Size & Forecast 2018-2028F, USD Million
By Ownership-- Market Size & Forecast 2018-2028F, USD Million

Competitive Outlook

Company Profiles

STC Pay

Business Description
Product Portfolio
Strategic Alliances or Partnerships
Recent Developments
Financial Details
Others

Geidea Solutions

Business Description
Product Portfolio
Strategic Alliances or Partnerships
Recent Developments
Financial Details
Others

Hala

Business Description
Product Portfolio
Strategic Alliances or Partnerships
Recent Developments
Financial Details
Others

UrPay

Business Description
Product Portfolio
Strategic Alliances or Partnerships
Recent Developments
Financial Details
Others

Mobily Pay

Business Description
Product Portfolio
Strategic Alliances or Partnerships
Recent Developments
Financial Details
Others

Alinma Pay

Business Description
Product Portfolio
Strategic Alliances or Partnerships
Recent Developments
Financial Details
Others

Friendi Pay

Business Description
Product Portfolio
Strategic Alliances or Partnerships
Recent Developments
Financial Details
Others

Liv KSA

Business Description
Product Portfolio
Strategic Alliances or Partnerships
Recent Developments
Financial Details
Others

Meem

Business Description
Product Portfolio
Strategic Alliances or Partnerships
Recent Developments
Financial Details
Others

Mada Pay

Business Description
Product Portfolio
Strategic Alliances or Partnerships
Recent Developments
Financial Details
Others

Quick Pay

Business Description
Product Portfolio
Strategic Alliances or Partnerships
Recent Developments
Financial Details
Others

HyperPay

Business Description
Product Portfolio
Strategic Alliances or Partnerships
Recent Developments
Financial Details
Others

Others

Disclaimer