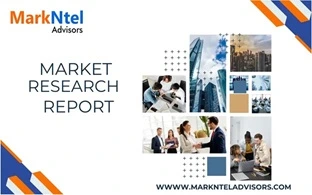 Global Probiotic Soaps & Detergents Market Research Report: Forecast (2023-2028)
By Type (Soap Bars, Liquids, Powders), By Application (Dishwashing, Laundry, Floor & Surface Cleaning), By Region (North America, Latin America, Europe, Middle East & Africa, Asia
...
Pacific), By Company (Novozymes, PureBiotics, Probiotic Craft, ProKlean Technologies Pvt. Ltd., PROBIOTIC, ProbioCare, PROTEKT, Mamaearth, Others (Yemvelo Hygiene, etc.))
Read more
FMCG

Jan 2023

208

CG33025
Market Definition
Probiotics are live microorganisms that pose health benefits when consumed or applied to the body in adequate amounts. The mounting popularity of probiotic soaps & detergents is primarily due to their benefits that help prevent various skin-related issues and aid in healthy & bright skin.
Market Insights
The Global Probiotic Soap and Detergent Market is projected to grow at a CAGR of around 9.2% during the forecast period, i.e., 2023-28. The ever-expanding need to meet environmental commitments is heavily influencing the probiotic soaps & detergents industry, as the presence of probiotics makes cleaning products eco-friendlier and sustainable in nature. Besides, these products aid in microscopic cleaning that lasts for weeks. Thus, there has been a substantial shift in consumer preference in switching to probiotic products from antibacterial products, as the latter does not protect against illnesses.
This gradual shift can also be traced back to a few decades ago when FDA enforced the rule that antiseptic products can only claim to reduce potential disease-causing bacteria and not kill all microorganisms. After wiping with an antibacterial cleaner over a surface of a home-like kitchen counter, or workspace like an office desk, active chemicals stay behind & continue to kill bacteria, although not necessarily all of them.
Report Coverage

Details

Study Period
Historical Data: 2018-21
Base Year: 2022
Forecast Period: 2023-28
CAGR (2023-2028)
9.2%

Regions Covered

North America

Europe

Asia-Pacific

Latin America

Middle East & Africa

Key Companies Profiled

Novozymes, PureBiotics, Probiotic Craft, ProKlean Technologies Pvt. Ltd., PROBIOTIC, ProbioCare, PROTEKT, Mamaearth, Others (Yemvelo Hygiene, etc.

Unit Denominations
USD Million/Billion
Consequently, the advent of probiotics-based detergents and soaps ensures effective cleaning and eliminates the toxic effects of chemicals on human or pets' health. Backed by these aspects, the probiotic soaps and detergents industry is projected to enthrall worldwide in the coming years.
Moreover, the Covid-19 Outbreak has also led to an increased usage of chemical products. However, since excessive use of chemicals can also negatively influence the indoor microbiome, several companies have come up with plant-based or natural products that are not just versatile and economical but also facilitates deep cleaning. For instance, Novozymes, along with numerous cleaning companies and a startup, established a partnership with the support of Gladsaxe Municipality's local business service to examine the effects of a new probiotic cleaning solution that could suffice the increased need for deep cleaning in the post-COVID-19 world.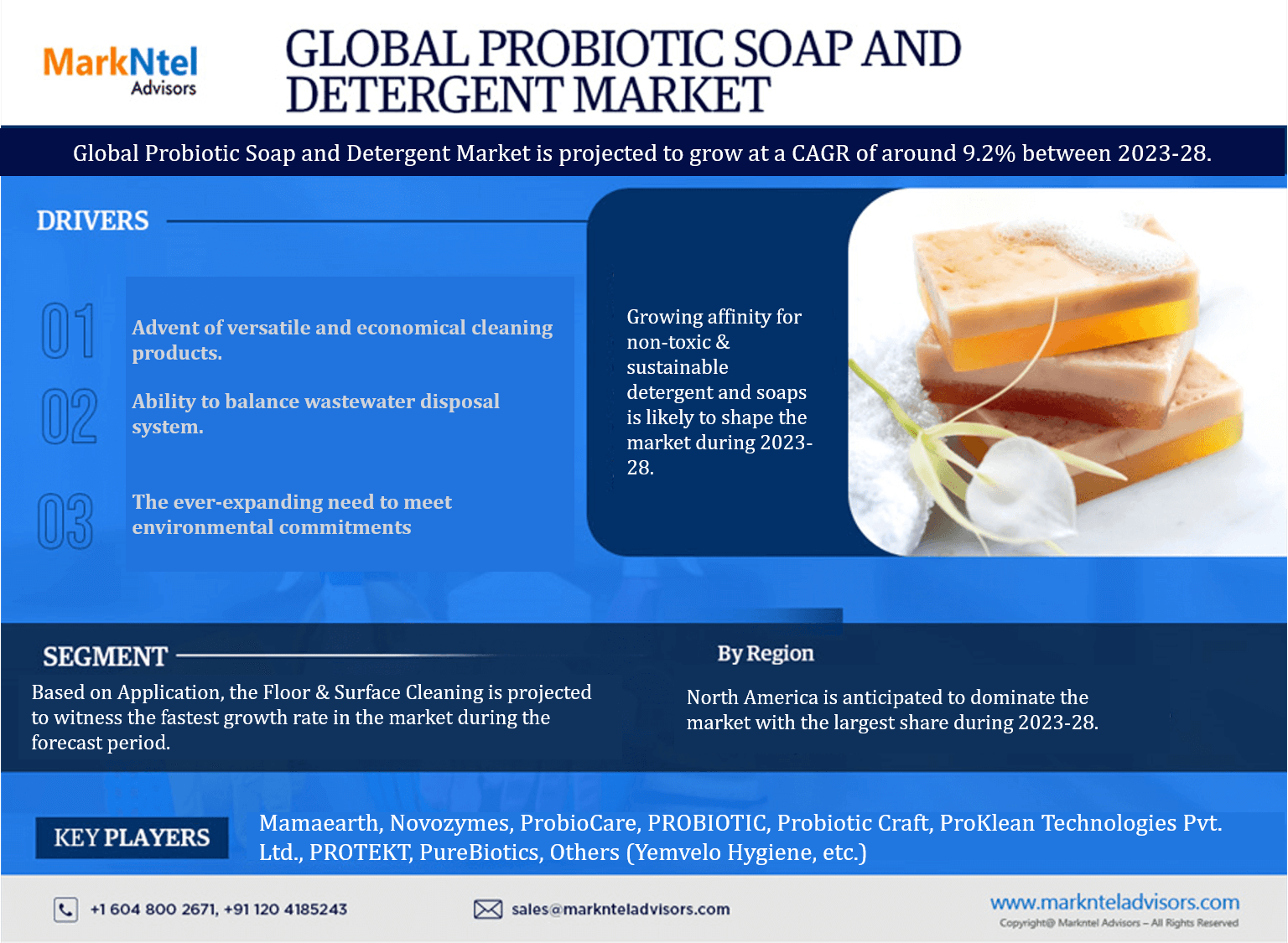 Market Dynamics
Key Trend: Growing Affinity for Non-Toxic & Sustainable Detergent and Soaps
The Covid-19 Pandemic has positively influenced the probiotic soap and detergent industry by pushing the demand for cleaning products that exhibit long-lasting effects in terms of cleanliness & decontamination of floors and spaces. Along with this, consumers have shown a considerable inclination towards safer, greener, and more effective cleaners due to the adverse effects of exploding usage of chemical disinfectants called for by the crisis.
Besides, indoor environments that are too clean can deteriorate the body's immune and surge the incidence of asthma & allergies. This sudden leaning has provided much-needed momentum to the industry, in turn shaping the probiotic soap and detergent market worldwide in the historical as well as forecast period.
Key Drivers:
Advent of Versatile and Economical Cleaning Products
The competition among the industry players has stiffened in the past few years ever since probiotics find application in not just foods and supplements but also in cleaning solutions owing to their massive benefits. With notable benefits like longer application period, better cleaning, enhanced hygiene levels, and eco-friendly nature with minimal carbon footprint, probiotics are being employed in almost all cleaning products, be it fabric softener, floor cleaner, laundry liquid, dish soap, all-purpose cleaner, toilet cleaner, hand wash, and many more.
Thus, the brands are adding probiotics to already-effective enzyme laundry detergents or soaps to enhance the cleaning power and make them home-friendly, as the probiotic micro-helpers utilize enzymes to break down soils and stains within the home naturally. In addition, there are products like EN-Z-KLEAN™ Ultra that are stain-specific and enable probiotics to settle onto surface nooks and crannies and work whenever they come into contact with dirt and grime, continuing to clean microscopically for up to seven days even after scrubbing has been stopped. Furthermore, to expand their accessibility, the companies are rigorously working towards making it economical.
Ability to Balance Wastewater Disposal System
Unlike toxic chemicals, which disturb and slow down the biodegradation process, the probiotic cleaners, when reaching wastewater systems, actually continue to digest contaminants. Similarly, laundry machines have demonstrated potential residual cleaning and maintenance benefits as probiotics adhere to their surfaces. For instance, A few years back, a mineral water brand Andea in Peru, started exploring ways to protect natural waterways by working with its creative agency Fahrenheit DDB and researchers at CIRSYS. It found a microorganism with probiotic functions that can feed on water pollutants. It then led to the formation of the probiotic laundry soap, which, when used for washing clothes, releases these microorganisms into rivers & cleans them.
According to Andea, water samples taken before & after the use of AWA soap indicated that water quality improved by up to 75%. With these results, the company has made AWA's formula available to various government agencies, environmental organizations, NGOs, and detergent manufacturers so that AWA can reach as many rivers on which people heavily rely for drinking, bathing, and cooking.
Growth Opportunity: Augmenting Demand for Scrubbing Agricultural Equipment
Probiotic-based cleaners will likely gain traction for their utility in agriculture in the coming years. The agriculture equipment necessitates detergents that are formulated to wash away agricultural diesel & oils, harmful fertilizer residues, and deposits without harming the fertility of the land. Thus, farmers are constantly looking for the best distributors facilitating cleaners suiting their needs. Backed by these emerging needs, the probiotics soaps and detergents intended for agricultural equipment is likely to emerge as an area of remunerative opportunities in the forecast period.
Market Segmentation
Based on Application,
Floor & Surface Cleaning
Dishwashing
Laundry
Between 2023-28, the Floor & Surface Cleaning application is projected to witness the fastest growth rate, among others, in the Probiotic Soaps & Detergents Market. Since probiotics-based surface cleaners have beneficial bacteria to colonize surfaces & fight the bad bacteria, the incorporation of probiotics in such cleaning products has amplified in the past few years. Studies have shown that a typical office environment contains 10 million bacteria, i.e., 400 times more than on an average toilet seat, and chemical cleaners cannot kill all harmful bacteria.
Inadequate usage of chemicals on non-critical surfaces can drive the survival of harmful bacteria that can generate increased resistance to cleaning solutions, remaining on surfaces & causing sickness among workers. Particularly in the case of hospitals that necessitate cleaning with minimum chemical usage, as excessively using chemical disinfectants can make the hospital an incubator for resistant pathogens. Therefore, the need for probiotic soap & detergent across hospitals for cleaning surfaces and floors is expected to drive the segment, thereby significantly contributing to the overall market growth in the coming years.
Regional Projection
Geographically, the Global Probiotic Soap and Detergent Market expands across:
North America
South America
Europe
Middle East & Africa
Asia-Pacific
On the geographical front, North America is likely to garner the majority of market share in the forecast years on account of expanding incorporation of probiotics in cleaning solutions by the key players. The comprehensive adoption of probiotics-based cleaning products as agents to kill harmful bacteria while promoting the multiplication of good bacteria has encouraged prominent companies to develop new and advanced variants. The escalating demand for cleaning solutions that facilitate deep cleaning, have a longer shelf life, and last long, has maximized the sales of probiotic soaps and detergents across countries like the USA and Canada.
On the other hand, other regions, such as the Asia Pacific and GCC, are stiffening the competition with their ever-increased expansion in these product lines. For instance, in 2021, Tamuq (Texas A&M University at Qatar) alumni launched a non-toxic detergent and cleaning product, "Environ Sustainable Solutions." These plant-based products are budget-friendly, biodegradable, hypoallergenic, and intended for families and pets. In addition, these products facilitate powerful cleaning with a proportionate blend of surfactants, enzymes, and probiotics.
Do You Require Further Assistance?
The sample report seeks to acquaint you with the layout and the overall research content.
The deliberate utilization of the report may further streamline operations while maximizing your revenue.
To gain an unmatched competitive advantage in your industry, you can customize the report by adding more segments and specific countries suiting your needs.
For a better understanding of the contemporary market scenario, feel free to connect to our knowledgeable analysts.
Frequently Asked Questions
A. The Probiotic Soap and Detergent Market is projected to grow at a CAGR of around 9.2% during 2023-28.
A. The ever-expanding need to meet environmental commitments is positively influencing the probiotic soaps & detergents industry through 2028.
A. The key players in the market are Mamaearth, Novozymes, ProbioCare, PROBIOTIC, Probiotic Craft, ProKlean Technologies Pvt. Ltd., PROTEKT, PureBiotics, Others (Yemvelo Hygiene, etc.)
A. The Floor & Surface Cleaning is anticipated to emerge as an area of remunerative opportunities for the leading players in the Probiotic Soap and Detergent Market during the forecast period.
A. Globally, North America would provide lucrative prospects for the Probiotic Soap and Detergent Market in the years ahead.
A. Growing affinity for non-toxic & sustainable detergent and soaps is likely to shape the growth of the probiotic soap and detergent market during 2023-28.
A. Augmenting demand for scrubbing agricultural equipment is expected to push the probiotic soap and detergent market through 2028.
Introduction

Product Definition
Research Process
Market Segmentation
Assumptions

Preface
Executive Summary
Impact of COVID-19 on Global Probiotic Soap & Detergent Market
Global Probiotic Soap & Detergent Market Dynamics

Growth Drivers
Challenges
Impact Analysis

Global Probiotic Soap & Detergent Market Policies and Standards
Global Probiotic Soap & Detergent Market Trends & Insights
Global Probiotic Soap & Detergent Market Hotspot & Opportunities
Global Probiotic Soap & Detergent Market Key Strategic Imperatives for Success & Growth
Global Probiotic Soap & Detergent Market Outlook, 2019-2028

Market Size & Analysis

By Revenues

Market Share & Analysis

By Type

Soap Bars
Liquids
Powders

By Application

Dishwashing
Laundry
Floor & Surface Cleaning

By Region

North America
Latin America
Europe
Middle East & Africa
Asia-Pacific

By Company

Competition Characteristics
Market Share & Analysis
Competitor Placement in MarkNtel Quadrant

North America Probiotic Soap & Detergent Market Outlook, 2019-2028

Market Size & Analysis

Revenues

Market Share & Analysis

By Type
By Application

Latin America Probiotic Soap & Detergent Market Outlook, 2019-2028

Market Size & Analysis

Revenues

Market Share & Analysis

By Type
By Application

Europe Probiotic Soap & Detergent Market Outlook, 2019-2028

Market Size & Analysis

Revenues

Market Share & Analysis

By Type
By Application

Middle East & Africa Probiotic Soap & Detergent Market Outlook, 2019-2028

Market Size & Analysis

Revenues

Market Share & Analysis

By Type
By Application

Asia-Pacific Probiotic Soap & Detergent Market Outlook, 2019-2028

Market Size & Analysis

Revenues

Market Share & Analysis

By Type
By Application

Competition Outlook

Competition Matrix

Product/ Solution Portfolio
Target Markets
Target End Users
Research & Development
Strategic Alliances
Strategic Initiatives

Company Profiles of Top Companies (Business Description, Product Segments, Business Segments, Financials, Strategic Alliances/ Partnerships, Future Plans)

Novozymes
PureBiotics
Probiotic Craft
ProKlean Technologies Pvt. Ltd.
PROBIOTIC
ProbioCare
PROTEKT
Mamaearth
Others (Yemvelo Hygiene, etc.)

Disclaimer