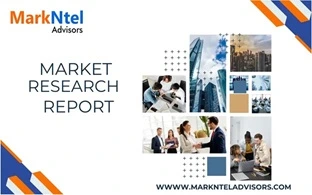 Global Digital Twin Market Research Report: Forecast (2023-2028)
By Type (Parts Twin, Product Twin, Process Twin, System Twin), By Technology (DTS-Si, Predix, APDV, Other), By Application (Product Design and Development, Machine & Equipment Heal
...
th Monitoring, Predictive Maintenance, Dynamic Optimization), By Deployment Type (Cloud, On-Premises, Hybrid), By End User (Manufacturing, Agriculture, Automotive & Transportation, Energy & Utilities, Healthcare & Life Sciences, Residential & Commercial, Retail & Consumer Goods, Others), By Region (North America, South America, Europe, Middle East & Africa, Asia-Pacific), By Company (Siemens AG, General Electric Company, IBM Corporation, SAP SE, Microsoft Corporation, PTC Inc., Ansys Inc., Oracle Corporation, Dassault Systems, Robert Bosch, Google)
Read more
ICT & Electronics

May 2023

371

IT55009
Market Definition
A digital twin is a digital replica of a physical entity— a product, process, person, or place. It uses real-world information using its data analytics, machine learning, & multi-physics simulation capabilities to predict the performance characteristics of their physical companions. Sensors installed on objects or assets demonstrate their real-time performance, operating scenarios, & changes over time, which ensure accurate modeling over a product's entire lifetime. Thus, it eliminates the need for physical prototypes, minimizes production time, & enhances the quality of the final product or process.
Market Insights & Analysis: Global Digital Twin Market (2023-28)
The Global Digital Twin Market is projected to grow at a whopping 58% CAGR during the forecast period, i.e., 2023-28. The growth of the market expansion would be propelled mainly by the ever-increasing demand for asset monitoring, rising penetration of Industrial IoT (IIoT), and the growing number of smart building infrastructures to ensure optimum energy consumption. Digital twins help create predictive models to identify the possibility of success of physical prototypes before they are actually built. Hence, they allow for improved workflow across different stages of a product's lifecycle— design, engineering, maintenance, & sales.
Report Coverage

Details

Study Period
Historical Data: 2018-21
Base Year: 2022
Forecast Period: 2023-2028
CAGR(2022-2027)
58%

Regions Covered

North America: US, Canada, Mexico

Europe: Germany, UK, France, Italy, Spain

Asia-Pacific: China, Japan, India, South Korea, Australia, Singapore

South America: Brazil, Argentina, Columbia

Middle East & Africa: Turkey, UAE, Saudi Arabia, South Africa, Qatar

Key Companies Profiled

Siemens AG, General Electric Company, IBM Corporation, SAP SE, Microsoft Corporation, PTC Inc., Ansys, Inc., Oracle Corporation, Dassault Systems, Robert Bosch, Google

Unit Denominations
USD Million/Billion
Consequently, there's a surging inclination of various industries like aviation, automotive, healthcare, logistics, retail, telecom, real estate, and manufacturing, among others, for multiple applications, including but not limited to remote monitoring, factory optimization, energy management, etc., in order to enhance their overall productivity & efficiency by designing better products while minimizing downtime, thereby enhancing the Digital Twin Market size. Several enterprises are actively working on implementing digital twin solutions to optimize their operational workflows & supply chains, which got hampered due to the Covid-19 pandemic. For instance:
In January 2021, Google announced 'Supply Chain Twin,' a new cloud solution that lets organizations create a digital twin of their physical supply chain & organize data to get a more comprehensive view of suppliers, inventories, and weather conditions. In addition to this launch is the Supply Chain Pulse module that can be used along with Supply Chain Twin to provide dashboards, analytics, alerts, & collaborations in Google Workspace.
Furthermore, the advent of such innovations and the mounting adoption of automation across various end-user verticals are predicted to create new directions for the key companies in the digital twin market to witness significant business growth opportunities over the forecast years.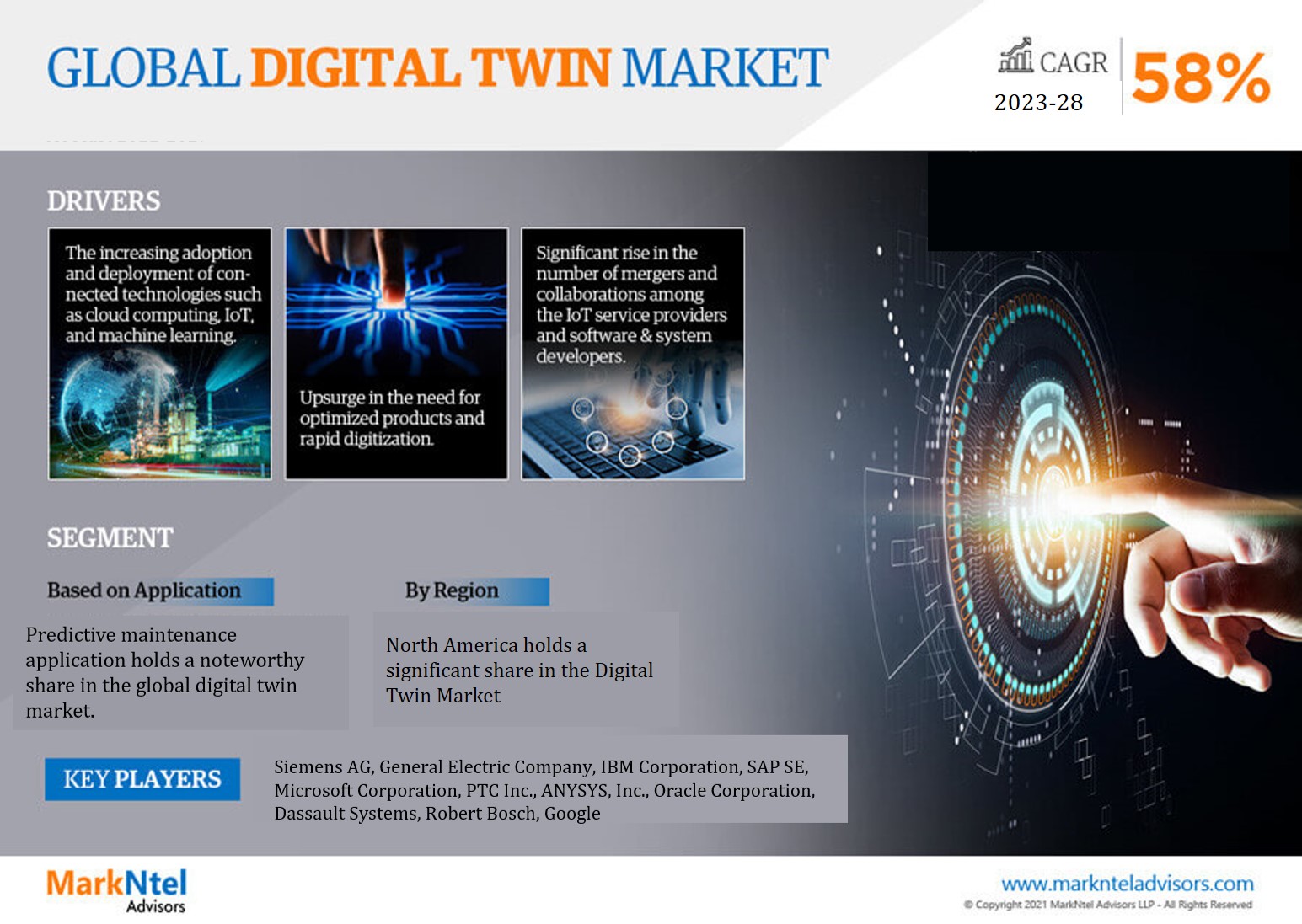 Market Dynamics
Key Driver: Rising Penetration of IIoT across Industries
The Industrial Internet of Things (IIoT) is an amalgamation of physical objects, platforms, systems, & applications that consist of embedded technology to communicate, transfer, and share intelligence, consumers, and the external environment. The high adoption rate of IIoT is driven mainly by the affordability & improved availability of sensors, processors, platforms, and other integrated technologies that have helped facilitate access to real-time information.
Besides, to optimize the performance of industrial assets, IIoT platforms are integrated into digital twin models used by many end-user industries to understand the operational behavior of assets before they get installed in real-time. Other applications of digital twin technology using IIoT include product integration, smart monitoring, and remote diagnosis that provide enhanced operational efficiency, high productivity, and the utmost performance of the equipment.
Growth Restraint: Increasing Data Security Risks Owing to Rising Use of IoT Sensors
The world is witnessing evolving requirements for digital twin solutions across different industries. However, since the development of these solutions involves the usage of multiple IoT sensors & other technologies like Big Data, cloud, Artificial Intelligence, etc., there are globally increasing risks of security, compliance, & data protection, & legislation. Hence, these aspects are hampering the demand for digital twins, owing to rising privacy concerns, especially across data-critical sectors like healthcare, government institutions, etc.
Market Segmentation
Based on Application:
Product Design & Development
Machine & Equipment Health Monitoring
Predictive Maintenance
Dynamic Optimization
Of them all, the predictive maintenance application holds a noteworthy share in the global digital twin market. A large number of enterprises operating in different industries, including but not limited to oil & gas, power utilities, etc., are creating predictive maintenance models using digital twin technology to evade failures by real-time monitoring of equipment.
With advancements in the IoT, these models are able to optimize the equipment maintenance cycle, which extends the life of a component/machinery and significantly reduces maintenance activities & costs, and downtime. As a result, there's an increasing demand for digital twin technology across various companies to build predictive maintenance models and achieve dramatic cost savings & strategic developments, i.e., propelling the overall market growth.
Based on End-User:
Agriculture
Manufacturing
Automotive & Transportation
Energy & Utilities
Healthcare & Life Sciences
Residential & Commercial
Retail & Consumer Goods
Here, the manufacturing sector holds a significant share in the Global Digital Twin Market. With the rising need to optimize manufacturing processes by maintaining optimum equipment health & production schedule, there's a mounting demand for digital transformations in equipment and manufacturing processes. Smart manufacturing is an emerging solution that involves internet-connected equipment that responds in real-time to monitor manufacturing processes in a factory.
Using the digital twin can help optimize the entire manufacturing process through a virtual model of the physical asset, thereby increasing overall productivity. As any disruption in the manufacturing process or unplanned downtime can bring the entire production line to a standstill & introduce substantial losses to businesses, more & more organizations are increasingly deploying digital twin technology within their manufacturing facilities.
Regional Projection
North America
South America
Europe
The Middle East & Africa
Asia-Pacific
North America holds a significant share in the Digital Twin Market, with the ever-increasing penetration of digital twin technology, especially in the US & Canada. The region is an early adopter of advanced technologies and home to industry leaders like Google, IBM Corporation, PTC, and Microsoft Corporation, among other companies, who are investing massively in the market.
Several end-user verticals like healthcare, home & commercial, among others, in the US & Canada are increasingly adopting parts twin & products twins, owing to their stated benefits that help enhance the overall productivity & efficiency. Moreover, the well-established IT infrastructure and the increasing prevalence of technologies like AI, IoT, & ML across different industries are also paving the way for the North America Digital Twin Market to expand significantly in the coming years.
Recent Developments in the Global Digital Twin Market
In December 2022, Hexagon AB announced the acquisition of LocLab to add speed, scalability & automation to digital twin creation.
In September 2022, HighByte released HighByte Intelligence Hub version 2.5, which expands connectivity to Microsoft Azure services, including Azure IoT Edge & Azure IoT Central, and the ability to import DTDL models from Azure Digital Twins.
In April 2022, GE Research, in collaboration with GE Renewable Energy, developed a cutting-edge AI/ML tool that uses a digital twin of the wind turbine logistics process to predict & streamline logistics costs accurately. This tool could save the global wind industry billions of dollars in logistics costs over the next decade.
In March 2022, Microsoft announced its strategic partnership with Newcrest, which has selected Azure as its preferred cloud globally, on programs of work that involve the use of digital twins to improve operational performance and a high-impact sustainability data model.
Gain a Competitive Edge with Our Global Digital Twin Market Report
Global Digital Twin Market Report by Markntel Advisors provides a detailed & thorough analysis of market size & share, growth rate, competitive landscape, and key players. This comprehensive analysis helps businesses gain a holistic understanding of the market dynamics & make informed decisions.
This report also highlights current market trends & future projections, allowing businesses to identify emerging opportunities & potential challenges. By understanding market forecasts, companies can align their strategies & stay ahead of the competition.
Global Digital Twin Market Report aids in assessing & mitigating risks associated with entering or operating in the market. By understanding market dynamics, regulatory frameworks, and potential challenges, businesses can develop strategies to minimize risks & optimize their operations.
Frequently Asked Questions
A. The Digital Twin Market is expected to record around 53% CAGR during 2023-28.
A. The rising demand for process optimization across industries like manufacturing, automotive, aviation, energy & utilities, healthcare, & logistics is the prime factor projected to drive the Digital Twin Market during 2023-28.
A. Siemens AG, General Electric Company, IBM Corporation, SAP SE, Microsoft Corporation, PTC Inc., Ansys Inc., Oracle Corporation, Dassault Systems, Robert Bosch, and Google are the key players operating in the Global Digital Twin Market.
A. The ever-increasing risks of data security due to burgeoning use of IoT Sensors might hinder the growth of the Digital Twin Market in the forecast period.
A. The predictive maintenance application would create lucrative prospects for the leading companies in the Digital Twin Market during 2023-28.
A. North America is expected to emerge as a promising region for the Digital Twin Market to witness profitable opportunities over the forecast years.
Introduction

Research Process
Assumption
Market Segmentation
Market Definition

Executive Summary
Expert Verbatim- What our Experts Say?
Global Digital Twin Market Outlook, 2018-2028F

Market Size and Analysis

By Revenues

Market Share and Analysis

By Type

Parts Twin
Product Twin
Process Twin
System Twin

By Technology

DTS-Si
Predix
APDV
Other

By Application

Product Design and Development
Machine & Equipment Health Monitoring
Predictive Maintenance
Dynamic Optimization

By Deployment Type

Cloud
On-Premises
Hybrid

By End User

Manufacturing
Agriculture
Automotive & Transportation
Energy & Utilities
Healthcare & Life Sciences
Residential & Commercial
Retail & Consumer Goods
Others

By Region

North America
South America
Europe
Middle East & Africa
Asia-Pacific

By Company

Revenue Shares
Strategic Factorial Indexing
Competitor Placement in Markntel Quadrant

North America Digital Twin Market Outlook, 2018-2028F

Market Size and Analysis

By Revenues

Market Share and Analysis

By Type
By Technology
By Deployment Type
By Application
By End User
By Country

US
Canada
Mexico

The US Digital Twin Market Outlook, 2018-2028F

Market Size and Analysis

By Revenues

Market Share and Analysis

By Type
By Technology
By Deployment Type
By Application
By End User

Canada Digital Twin Market Outlook, 2018-2028F

Market Size and Analysis

By Revenues

Market Share and Analysis

By Type
By Technology
By Deployment Type
By Application
By End User

Mexico Digital Twin Market Outlook, 2018-2028F

Market Size and Analysis

By Revenues

Market Share and Analysis

By Type
By Technology
By Deployment Type
By Application
By End User

South America Digital Twin Market Outlook, 2018-2028F

Market Size and Analysis

By Revenues

Market Share and Analysis

By Type
By Technology
By Deployment Type
By Application
By End User
By Country

Brazil
Argentina
Columbia

Brazil Digital Twin Market Outlook, 2018-2028F

Market Size and Analysis

By Revenues

Market Share and Analysis

By Type
By Technology
By Deployment Type
By Application
By End User

Argentina Digital Twin Market Outlook, 2018-2028F

Market Size and Analysis

By Revenues

Market Share and Analysis

By Type
By Technology
By Deployment Type
By Application
By End User

Columbia Digital Twin Market Outlook, 2018-2028F

Market Size and Analysis

By Revenues

Market Share and Analysis

By Type
By Technology
By Deployment Type
By Application
By End User

Europe Digital Twin Market Outlook, 2018-2028F

Market Size and Analysis

By Revenues

Market Share and Analysis

By Type
By Technology
By Deployment Type
By Application
By End User
By Country

Germany
Italy
France
UK
Spain

Germany Digital Twin Market Outlook, 2017-2027F

Market Size and Analysis

By Revenues

Market Share and Analysis

By Type
By Technology
By Deployment Type
By Application
By End User

Italy Digital Twin Market Outlook, 2017-2027F

Market Size and Analysis

By Revenues

Market Share and Analysis

By Type
By Technology
By Deployment Type
By Application
By End User

France Digital Twin Market Outlook, 2018-2028F

Market Size and Analysis

By Revenues

Market Share and Analysis

By Type
By Technology
By Deployment Type
By Application
By End User

UK Digital Twin Market Outlook, 2018-2028F

Market Size and Analysis

By Revenues

Market Share and Analysis

By Type
By Technology
By Deployment Type
By Application
By End User

Spain Digital Twin Market Outlook, 2017-2027F

Market Size and Analysis

By Revenues

Market Share and Analysis

By Type
By Technology
By Deployment Type
By Application
By End User

Middle East & Africa Digital Twin Market Outlook, 2017-2027F

Market Size and Analysis

By Revenues

Market Share and Analysis

By Type
By Technology
By Deployment Type
By Application
By End User
By Country

Turkey
Saudi Arabia
UAE
Qatar
South Africa

Turkey Digital Twin Market Outlook, 2017-2027F

Market Size and Analysis

By Revenues

Market Share and Analysis

By Type
By Technology
By Deployment Type
By Application
By End User

Saudi Arabia Digital Twin Market Outlook, 2017-2027F

Market Size and Analysis

By Revenues

Market Share and Analysis

By Type
By Technology
By Deployment Type
By Application
By End User

UAE Digital Twin Market Outlook, 2017-2027F

Market Size and Analysis

By Revenues

Market Share and Analysis

By Type
By Technology
By Deployment Type
By Application
By End User

Qatar Digital Twin Market Outlook, 2017-2027F

Market Size and Analysis

By Revenues

Market Share and Analysis

By Type
By Technology
By Deployment Type
By Application
By End User

South Africa Digital Twin Market Outlook, 2017-2027F

Market Size and Analysis

By Revenues

Market Share and Analysis

By Type
By Technology
By Deployment Type
By Application
By End User

Asia-Pacific Digital Twin Market Outlook, 2018-2028F

Market Size and Analysis

By Revenues

Market Share and Analysis

By Type
By Technology
By Deployment Type
By Application
By End User
By Country

China
India
Japan
Australia
Singapore
South Korea

China Digital Twin Market Outlook, 2017-2027F

Market Size and Analysis

By Revenues

Market Share and Analysis

By Type
By Technology
By Deployment Type
By Application
By End User

Australia Digital Twin Market Outlook, 2017-2027F

Market Size and Analysis

By Revenues

Market Share and Analysis

By Type
By Technology
By Deployment Type
By Application
By End User

Japan Digital Twin Market Outlook, 2017-2027F

Market Size and Analysis

By Revenues

Market Share and Analysis

By Type
By Technology
By Deployment Type
By Application
By End User

India Digital Twin Market Outlook, 2017-2027F

Market Size and Analysis

By Revenues

Market Share and Analysis

By Type
By Technology
By Deployment Type
By Application
By End User

South Korea Digital Twin Market Outlook, 2017-2027F

Market Size and Analysis

By Revenues

Market Share and Analysis

By Type
By Technology
By Deployment Type
By Application
By End User

Singapore Digital Twin Market Outlook, 2017-2027F

Market Size and Analysis

By Revenues

Market Share and Analysis

By Type
By Technology
By Deployment Type
By Application
By End User

Global Digital Twin Market Policies, Regulations, Gearbox Type Standards
Global Digital Twin Market Trends & Insights
Global Digital Twin Market Dynamics

Growth Drivers
Challenges
Impact Analysis

Global Digital Twin Market Hotspot and Opportunities
Global Digital Twin Market Key Strategic Imperatives for Success and Growth
Competitive Outlook

Competition Matrix

Gearbox Type Portfolio
Brand Specialization
Target Markets
Target Gearbox Types
Research & Development
Strategic Alliances
Strategic Initiatives

Company Profiles (Business Description, Gearbox Type Segments, Business Segments, Financials, Strategic Alliances/ Partnerships, Future Plans)

Siemens AG
General Electric Company
SAP SE
Microsoft Corporation
PTC Inc.
Google
Ansys, Inc.
Oracle Corporation
Dassault Systems
Robert Bosch

Disclaimer