Press Release Description
Asia-Pacific Recommerce Market to Register a CAGR of About 5.85% During 2024-2030
Asia-Pacific Recommerce Market is projected to grow at a CAGR of around 5.85% during the forecast period of 2024-30, cites MarkNtel Advisors in the recent research report. One of the primary drivers of the market is the increasing awareness of environmental sustainability among consumers. Individuals are becoming more conscious of the impact of their consumption habits on the planet & are choosing to buy pre-owned products as a way to reduce waste & carbon footprint. This shift in consumer behavior has motivated various recommerce platforms such as ReFlaunt & eBay and global brands such as Apple, etc., to expand their footprints in the Asia-Pacific region, thus driving the overall market expansion.
The region's significant economic expansion, which has resulted in an upsurge in the middle-income population, has driven the demand for luxury or brand products as a status symbol. This, in turn, is driving up demand for pre-owned luxury products while simultaneously making buyers more price-conscious. As recommerce platforms can meet residents' evolving requirements, consumer interest in these platforms is expanding at a rapid pace.
The Asia-Pacific region boasts a diverse economic landscape, and in this context, refurbished electronics are emerging as an attractive option for cost-conscious consumers. Refurbished products, typically priced lower than their brand-new counterparts, enhance accessibility to high-quality electronics, fostering growth in the market. Key players like Cashify, Asus, and others are expanding their presence across the regional landscape, capitalizing on this trend.
Furthermore, the mounting issue of e-waste generation & insufficient disposal rates in countries like India, China, and Japan has spurred government actions to promote electronics resale & reuse, offering tax incentives for businesses engaged in smartphone refurbishment. These efforts, along with extended warranties on refurbished products by electronic brands, contribute to the burgeoning market expansion, further states the research report, "Asia-Pacific Recommerce Market Analysis, 2024."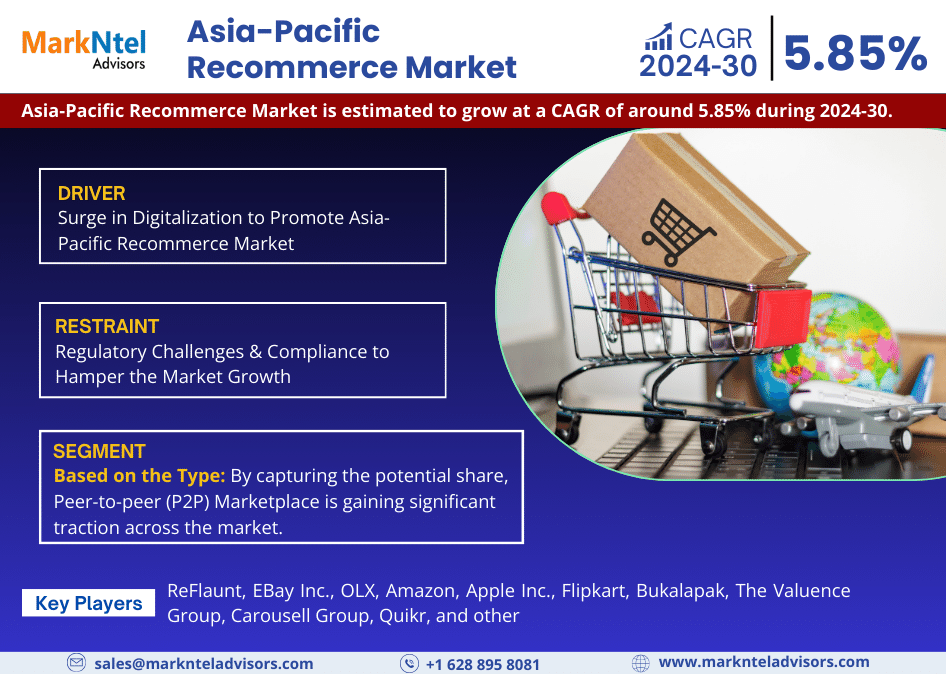 Luxury Segment to Gain Notable Momentum Across Asia-Pacific Recommerce Market
Based on the Product Category, the market is bifurcated into Luxury & Non-luxury. Among them, the Luxury product category accounts for the potential share of the Asia-Pacific Recommerce Market due to evolving consumer preferences, economic growth, and a greater interest in sustainable shopping practices.
This segment has become a prominent player, offering high-end fashion, luxury accessories, and electronics. Thus, major recommerce companies, such as Amazon, Flipchart, eBay, etc., have partnered with luxury brands to establish official resale channels in the region, thus contributing to market growth.
Also, the expanding middle-class population in the region with increased disposable income is seeking luxury products for their prestige & social status. Hence, this trend is notably driving the Asia-Pacific Recommerce Market.
China to Witness Substantial Demand for Recommerce Services
China is anticipated to dominate the Asia-Pacific Recommerece Market due to the thriving e-commerce industry across the country. The rising middle-class demographic's preference for global brand products fuels substantial demand for electronics & fashion items from recommerce platforms such as Xianyu & AiHuiShou. E-commerce platforms provide enticing opportunities for budget-conscious consumers to access luxury & designer products, driving market expansion.
Additionally, growing environmental awareness & sustainability concerns prompt Chinese consumers to choose second-hand products to reduce waste & carbon footprints, encouraged by the government's initiatives to promote sustainability. Hence, with China's strong support, the Asia-Pacific Recommerce Market is poised to see increased demand in the future.
Competitive Landscape
With strategic initiatives, such as mergers, collaborations, and acquisitions, the leading market players, including ReFlaunt, EBay Inc., OLX, Amazon, Apple Inc., Flipkart, Bukalapak, The Valuence Group, Carousell Group, Quikr, etc., are looking forward to strengthening their market position.
Key Questions Answered in the Research Report
What are the industry's overall statistics or estimates (Overview, Size- By Value, Forecast Numbers, Segmentation, Shares)?
What are the trends influencing the current scenario of the Asia-Pacific Recommerece Market?
What key factors would propel and impede the industry across the region?
How has the industry been evolving in terms of geography & product adoption?
How has the competition been shaping across various countries?
How has the buying behavior, customer inclination, and expectations from product manufacturers been evolving during 2019-30?
Who are the key competitors, and what strategic partnerships or ventures are they coming up with to stay afloat during the projected time frame?
Place an order
Only market data will be provided in the excel spreadsheet.
The report will be delivered in PDF format without printing rights. It is advised for a single user.
The report will be delivered in PDF format with printing rights. It is advised for up to five users.
The report will be delivered in PDF format with printing rights and excel sheet. It is advised for companies where multiple users would like to access the report from multiple locations
100% Safe & Secure
Strongest encryption on the website to make your purchase safe and secure