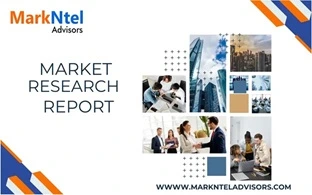 North America Smart Meter Intelligence Market Research Report: Forecast (2021-2026)
By Type of Meter (Smart Electric Meters, Smart Gas Meters, Smart Water Meters), By Analytical Tool (Descriptive Analytics, Preventive Analytics, Predictive Analytics, Diagnostic An
...
alytics), By Technology (Advanced Metering Infrastructure (AMI), Automated Meter Reading (AMR)), By Data Storage (Cloud-Based, On-Premise), By Security Type (Network Security, Internet Security, End Point Security, Cloud based security, Application Security), By End User (Residential, Industry, Commercial), By Purpose (Demand & Supply Forecasting, Load Forecasting, Grid Management, Load Management, Risk Management, Pricing Management, Preventive Maintenance, Regulatory Reporting, Improving Customer Experience)
Read more
Energy

Oct 2021

122

EN77030
Smart Meters are electronic devices that store data related to energy (electricity, gas, water) consumed by individual consumers and facilitates automatic readings & bill generation. The data recorded by these meters help predict the energy demand.
The North America Smart Meter Intelligence Market is anticipated to grow at around 8.21% CAGR during the forecast period, i.e., 2021-26, says MarkNtel Advisors. With the booming urbanization, increasing residential apartments, commercial buildings, and industrial operations in the region, the market witnessed a steady growth during 2016-2020. This technology has proven to be extremely helpful to numerous utility companies & grid managers.
The burgeoning installations of smart meters are also due to the transparency of energy consumed provided to end-users. It ensures a reduction in wastage of resources. The monitoring and calculation of bills and other such related tasks have been made simpler. The forecasting of potential demand has now been made accurate with the integration of AI in those meters.
Moreover, smart meters in North America have witnessed up to 50% growth in their demand, leaving ample space for growth & investment opportunities in the market over the forecast period. Besides, rising construction projects across the residential, commercial, and industrial sectors is another crucial aspect predicted to drive the market in the coming years, further states the research report, "North America Smart Meter Intelligence Market Analysis, 2021."
Report Coverage

Details

Study Period
Historical Data: 2016-19
Base Year: 2020
Forecast Period: 2021-26
CAGR (2021-2026)
8.21%

Countries Covered

North America: USA, Canada, Mexico

Key Companies Profiled

Microsoft, General Electric, IBM, SAS, Itron, Oracle, Innowatts, Cyient, C3 AI, OmniSci, Sagewell, Landis +Gyr, Siemens, Grid4C, OSIsoft

Unit Denominations

USD Million/Billion
Impact of COVID-19 on North America Smart Meter Intelligence Market
Last year, the Covid-19 pandemic negatively impacted the North America Smart Meter Intelligence Market, primarily due to the decline in the meter deployments in residential & commercial areas. Shipments & installations of Smart meters got adversely affected due to the imposition of lockdown.The smart meter rollout witnessed some extent of delays amidst the pandemic.
However, a proper resumption of shipments & installations of smart meters was observed from Q4 2020 onwards, mainly after the upliftment of lockdown & trade restrictions. It owes to various advantages of smart meters to both utilities & customers that their demand is propelling significantly. Hence, the market is expected to gain a rapid pace and generate a steady demand, especially from the industrial sector.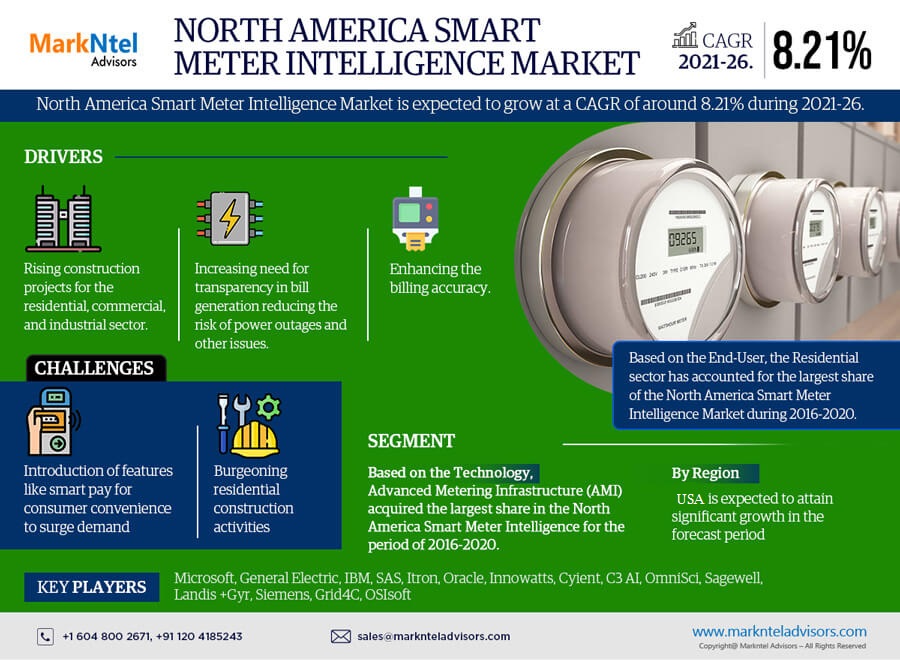 Market Segmentation
By Component:
Advanced Metering Infrastructure (AMI) Dominated the North America Smart Meter Intelligence Market with the Largest Share
Advanced Metering Infrastructure (AMI) is an integrated system of communication networks, smart meters, and data management systems that allows two-way communication between customers & utilities. AMI systems assist in providing timely & accurate meter data & other data management activities that have been the key reasons for their rapid adoption in North America.
According to the Institute for Electric Innovation (IEI) report, U.S. electric companies installed 98 million smart meters in 2019, accounting for more than 70% of all U.S. households. With the rising demand to reduce transmission & distribution losses and modernize the electricity grid, the need for AMI is significantly increasing, which shall boost the AMI market in the years to come.
By End-User:
Residential Sector Attained the Largest Share in the North America Smart Meter Intelligence Market
The Residential sector has been the majority contributor to the market growth during 2016-2020 and is expected to maintain its dominance in the forecast period. This is due to the higher number of smart meter installations in the residential buildings than the industry & commercial sectors.
In 2017, 2 Canadian cities combined invested about USD 16 million to shift from analog to smart water meters. First of all, Chatham-Kent in Ontario spent about USD 10 million to replace 36,000 water meters with the help of Neptune Technology.
Secondly, St. Albert in Alberta spent around USD 6.4 million toward installing nearly 22,000 water meters, primarily to reduce the average daily water consumption per person to 200 liters from 247 liters. This awareness is necessary for the residents to acknowledge that smart meters have been of great assistance. Hence, based on these aspects, the booming residential sector in the region is projected to dominate the market in the coming years.
Country Landscape:
The US Dominates the North America Smart Meter Intelligence Market
The US Smart Meter Intelligence Market has observed a significant growth during 2016-20, principally due to the increasing adoption of Smart meter services in buildings. The key benefit of installing smart meters is the operational cost savings of the utility companies as they do not have to employ anyone, especially for taking meter readings of every building in the area.
Recently, in 2021, the state of New Jersey approved the rollout of PSE&G's smart meters worth approximately USD 778 million. Besides, the state would deploy AMI Smart meters to collect & analyze the demand & supply data and monitor the consumption pattern of the residents. Their installation is likely to be completed by 2024.
Additionally, the states, such as California and Texas, have already been ahead and have adopted the AMI technology, indicating substantial market growth in the US.
Market Dynamics:
Key Driver
Pressing Need for Transparency in Bill Generation
Smart meters help measure the real-time consumption of electricity, water, gas, etc. The deployment of smart meters across residential & commercial sectors is increasing astronomically due to their numerous benefits, including transparency in bill generation that reduces the risk of power outages & other issues.
The adoption of Smart meters facilitates billing accuracy across various sectors, including data centers, government buildings, and private offices. Besides enhancing billing accuracy, these meters help reduce utility thefts and alleviate line losses. Hence, all these factors are anticipated to drive the market in the coming years.
Other Market drivers include:
Introduction of features like Smart Pay for consumer convenience
Burgeoning residential constructions
Market Challenges
Data Privacy Concerns and Surging Cyberattacks
Smart meter data collection & communication abilities are the potential targets of malicious attackers who might get huge benefits from manipulating & stealing the smart meter data as it has high commercial value. Hence, communications between utilities & smart meters should be highly secured to protect that crucial data from such attackers. Several government agencies are well aware of these risks and have formulated new regulations to protect such information. Hence, these privacy-related concerns might act as the prime growth restraints for the market in the forecast years.
Key Questions Answered in the Market Research Report:
What are the overall statistics or estimates (Overview, Size- By Value, Forecast Numbers, Segmentation, Shares) of the North America Smart Meter Intelligence Market?
What are the country-wise industry size, growth drivers, and challenges?
What are the key innovations, opportunities, current & future trends, and regulations in the North America Smart Meter Intelligence Market?
Who are the key competitors, their key strengths & weaknesses, and how do they perform in the North America Smart Meter Intelligence Market based on a competitive benchmarking matrix?
What are the key results derived from the surveys conducted during the North America Smart Meter Intelligence Market study?
Frequently Asked Questions
A. The North America Smart Meter Intelligence Market is projected to grow at a CAGR of around 8.21% during 2021-26.
A. The Residential sector is expected to dominate the market and maintain its significant market share during the forecast period.
A. US shall continue to grow at the highest CAGR during 2021-26 and present immense opportunities to leading players of the North America Smart Meter Intelligence Market.
A. Booming urbanization, increasing residential apartments, commercial buildings, and industrial operations are the key factors contributing to the market growth.
A. Post-COVID-19 Pandemic, the North America Smart Meter Intelligence Market is set to witness steady growth owing to the increasing deployment of smart meters.
Introduction

Product Definition
Research Process
Assumptions
Market Segmentation

Executive Summary
Impact of COVID-19 on North America Smart Grid Market
Expert Verbatim: What our expert says?
North America Smart Meter Intelligence Market Trends & Insights
North America Smart Meter Intelligence Market Dynamics

Growth Drivers
Challenges
Impact Analysis

North America Smart Meter Intelligence Market Hotspot & Opportunities
North America Smart Meter Intelligence Market Key Strategic Imperatives for Success & Growth
North America Smart Meter Intelligence Government Regulations and Policy Analysis
North America Smart Meter Intelligence Market Analysis, 2016-2026F

Market Size and Analysis

By Revenue

Market Share and Analysis

By Type of Meter

Smart Electric Meters
Smart Gas Meters
Smart Water Meters

By Analytical Tool

Descriptive Analytics
Preventive Analytics
Predictive Analytics
Diagnostic Analytics
Others

By Technology

Advanced Metering Infrastructure(AMI)
Automated Meter Reading (AMR)

By Data Storage

Cloud Based
On Premise

By Security Type

Network Security
Internet Security
End Point Security
Cloud based security
Application Security
Others

By End User

Residential
Industry
Commercial

By Purpose

Demand & Supply Forecasting

Load Forecasting
Grid Management
Load Management
Risk Management
Pricing Management

Preventive Maintenance
Regulatory Reporting
Improving Customer Experience

By Country

The US
Canada
Mexico

By Company

Competition Characteristics
Market Share and Analysis

The United States Smart Meter Intelligence Market Analysis, 2016-2026F

Market Size and Analysis

By Revenue

Market Share and Analysis

By Type of Meter
By Analytical Tools
By Technology
By Data Storage
By Security Type
By End User
By Purpose

Canada Smart Meter Intelligence Market Analysis, 2016-2026F

Market Size and Analysis

By Revenue

Market Share and Analysis

By Type of Meter
By Analytical Tools
By Technology
By Data Storage
By Security Type
By End User
By Purpose

Mexico Smart Meter Intelligence Market Analysis, 2016-2026F

Market Size and Analysis

By Revenue

Market Share and Analysis

By Type of Meter
By Analytical Tools
By Technology
By Data Storage
By Security Type
By End User
By Purpose

Competition Outlook

Competition Matrix

Product Portfolio
Target Markets
Target End Users
Manufacturing Units
Research & Development
Strategic Alliance
Strategic Initiatives

Company Profiles (Business Description, Product Offering, Business Segments, Financials, Strategic Alliances or Partnerships, Future Plans)

Microsoft
General Electric
IBM
SAS
Itron
Oracle
Innowatts
Cyient
C3 AI
OmniSci
Sagewell
Landis +Gyr
Siemens
Grid4C
OSIsoft
Others
Disclaimer