Press Release Description
Massive R&D Investments in Advanced Diagnosis & Treatment to Drive the Colorectal Cancer Market in China
A recent research report published by MarkNtel Advisors cites that the China Colorectal Cancer Market is expecting around 3% CAGR during 2022-27. The rising patient pool of colorectal cancer (CRC) across China, owing to various reasons like lifestyle changes, increasing elderly population, growing nationwide urbanization, high intake of red meat, and lack of screening, among others, is instigating the need to enhance the existing medications required for its treatment.
The leading players participating in the market are conducting rigorous research & development activities with immense government support through substantial investments & favorable policies to test & implement novel therapies with multiple medications.
Additionally, since CRC is one of the leading causes of cancer-related deaths, various pharmaceutical companies across China are working toward introducing advanced drugs to address the diverse requirements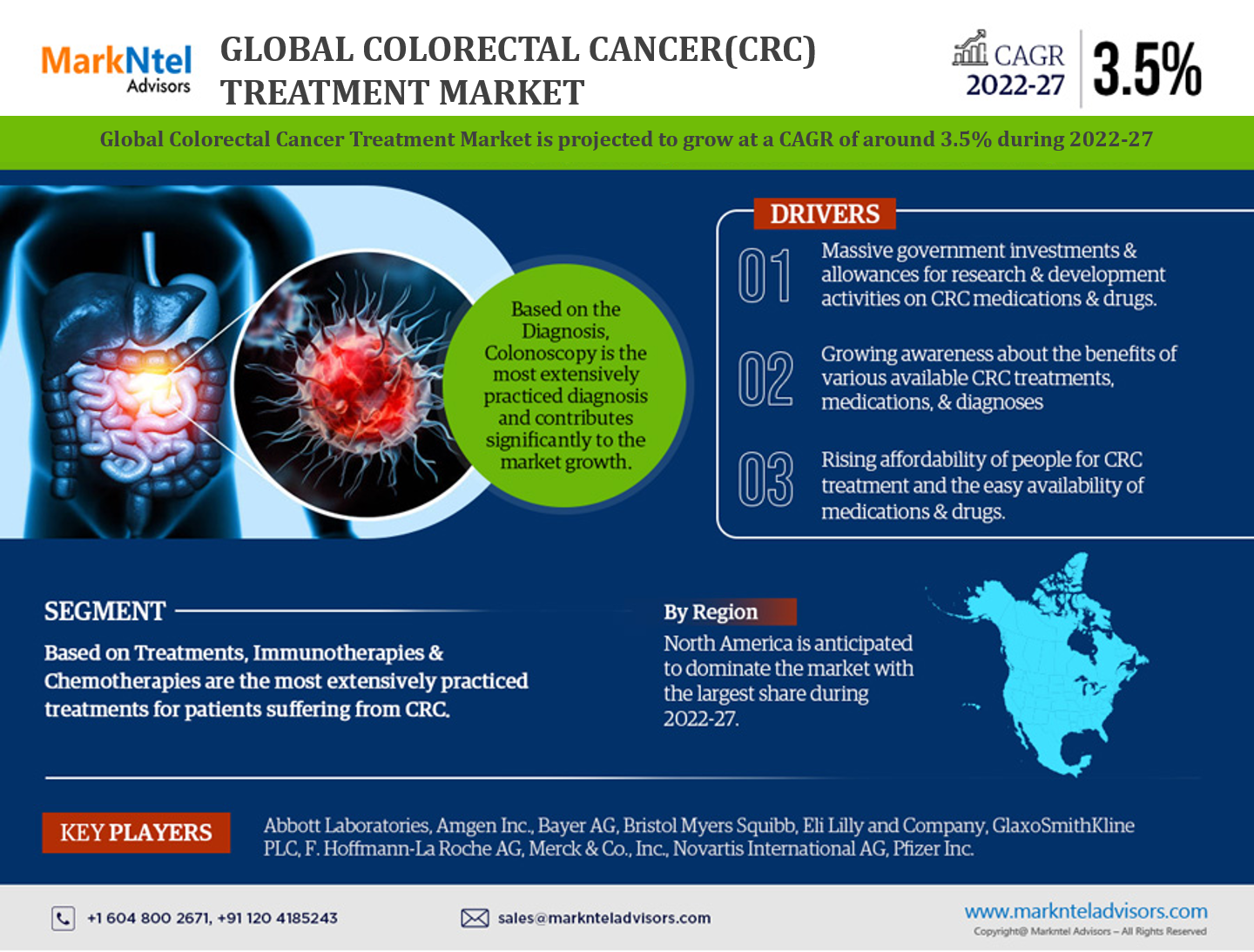 Mounting Consumer Awareness about the Effectiveness of Immunotherapies to Boost the Market
Among various types of CRC treatment, immunotherapy drugs like Bevacizumab, Cetuximab, & Panitumumab are anticipated to contribute substantially to the market growth during 2022-27, principally on the back of their benefits like no specificity or toxic side effects and better resistance in the body to fight cancer.
Bevacizumab, in combination with chemotherapy drugs, is being used as first or second-line treatment for Chinese CRC patients with no previous record of bevacizumab & has displayed better efficacy than chemotherapy alone.
Moreover, these drugs help the immune system keep itself from attacking the healthy cells & only target cancer cells. Hence, the growing awareness among patients about these drugs & benefits is propelling the overall growth of the China Colorectal Cancer Market.
Competitive Landscape
The leading players in the China Colorectal Cancer Market are Amgen China, Bristol-Myers Squibb, Bayer AG, Merck KGaA, Roche (China) Co., Ltd., Eli Lilly & Company, Sanofi China, Taiho Pharmaceutical, Novartis AG, and Pfizer Inc.
Key Questions Answered in the Research Report
What are the current & future trends in the China Colorectal Cancer Market?
How has the industry been evolving in terms of geography & product adoption?
How has the competition been shaping across China, followed by their comparative factorial indexing?
What are the key growth drivers & challenges for the China Colorectal Cancer Market?
What are the customer orientation, purchase behavior, & expectations from the leading companies operating in the China Colorectal Cancer Market?
Market Segmentation:
By Diagnosis (Digital Rectal Examination, Fecal Occult Blood Test, Flexible Sigmoidoscopy, Colonoscopy, Virtual Colonoscopy, Double Contrast Barium Enema)
By Treatment (Surgery, Radiation Therapy, Targeted Therapy, Chemotherapy (Alkylating agent, Antimetabolites (Fluorouracil, Capecitabine)), Immunotherapy Drugs (Monoclonal Antibodies (Bevacizumab, Cetuximab, Panitumumab), Biologic Response Modifiers, Colony-Stimulating Factors, Tumor Vaccines))
By Region (North, North-East, North-West, East, South-West, South Central)
Place an order
Only market data will be provided in the excel spreadsheet.
The report will be delivered in PDF format without printing rights. It is advised for a single user.
The report will be delivered in PDF format with printing rights. It is advised for up to five users.
The report will be delivered in PDF format with printing rights and excel sheet. It is advised for companies where multiple users would like to access the report from multiple locations
100% Safe & Secure
Strongest encryption on the website to make your purchase safe and secure