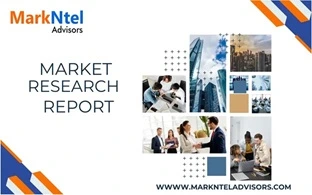 Global Blended Cement Market Research Report: Forecast (2024-2030)
Blended Cement Market Report- By Material (Silica Fume, Fly Ash, Slag, Limestone), By Application (Residential, Non-Residential), By Region (North America, Europe, Asia-Pacific, So
...
uth America, Middle East & Africa)
Read more
Buildings, Construction, Metals & Mining

May 2023

175

BM33016
Market Definition
Blended cement is sustainable cement prepared by substituting a part of the traditional Portland cement clinker with high-blending materials, such as silica fume, fly ash, slag, and limestone. These are used to enhance the properties of the blended cement.
Market Insights & Analysis: Global Blended Cement Market (2024-30)
The Global Blended Cement Market is projected to grow at a CAGR of around 3.8% during the forecast period, i.e., 2024-30. Most of the market expansion is driven by rapid urbanization across different countries, numerous ongoing & upcoming building and construction projects associated with both residential & non-residential sectors, and massive investments in infrastructure developments related to roads, bridges, dams, public utility structures, airports, military facilities, power plants, etc.
Globally, India, Vietnam, Malaysia, Philippines, and Nigeria are emerging as highly lucrative areas for blended cement manufacturers owing to their booming construction industries with an exponentially increasing number of commercial & residential buildings. On the other front, the market growth is decent in the US, Poland, South Korea, and Turkey.
Report Coverage

Details

Study Period
Historical Data: 2019-22
Base Year: 2023
Forecast Period: 2024-30
CAGR (2023-2028)
3.8%

Regions Covered

North America: The US, Canada, Mexico

South America: Brazil, Argentina

Europe: The UK, Italy, Germany, France, and Others

Middle East & Africa: Saudi Arabia, South Africa

Asia-Pacific: China, India, Japan, South Korea, Others

Key Companies Profiled

ACC Limited, Anhui Conch Cement, CEMEX S.A.B. de C.V., Dalmia Bharat Group, Holcim Group, Heidelberg Cement, JSW Cement, Taiheiyo Cement Corporation, The Siam Cement Group, and UltraTech Cement Limited

Unit Denominations
USD Million/Billion
With stringent government norms for various industries to eliminate or reduce the use of toxic materials in order to curb the alarming levels of carbon emissions, businesses have started adopting eco-friendly measures to contribute to a sustainable environment. Since cement is one of the most prominent building & construction materials, dramatically rising construction activities & infrastructural developments are augmenting the demand for blended cement, i.e., a cost-effective alternative to traditional Portland cement and can significantly reduce CO2 emissions.
Moreover, blended cement has become increasingly popular among both consumers & builders in recent years, which owes to its benefits, including limited to low permeability, superior resistance to chlorides/sulfates, excellent strength, and enhanced workability. Hence, these aspects project numerous opportunities for the Global Blended Cement Market to witness notable expansion in the coming years.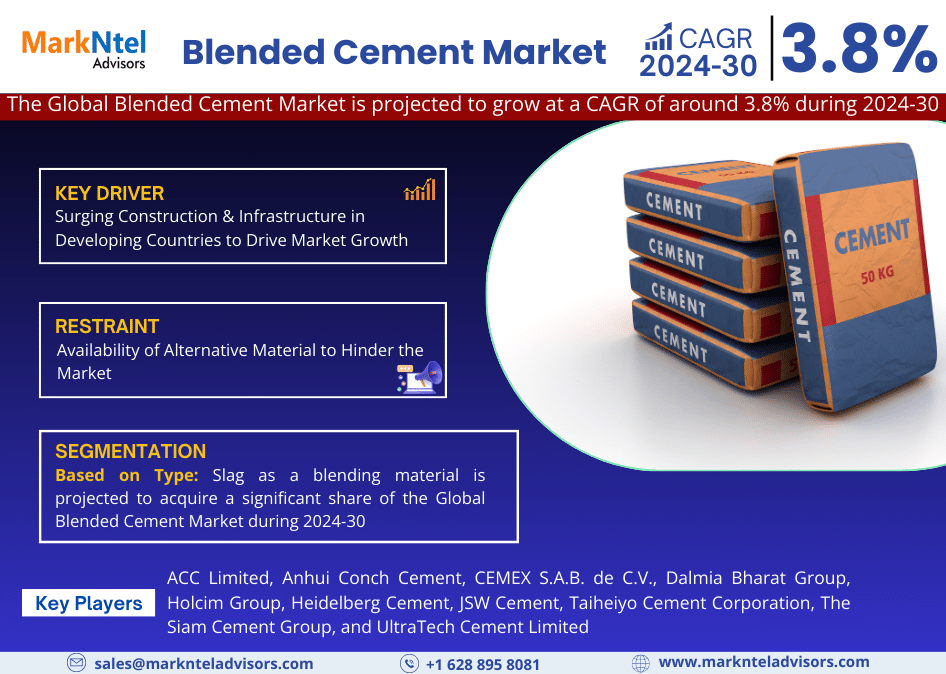 Global Blended Cement Market Driver:
Surging Construction & Infrastructure in Developing Countries to Drive Market Growth – The increasing population in countries such as India and China has led to a shortage of housing in major cities. This results in instigating the construction industry in these countries, driving the growth of the Global Blended Cement Market. Due to the properties of blended cement, such as durability, strength, and chemical resistance, the commercial sectors, residential & building blocks utilize blended cement. The worldwide population is anticipated to increase in the future with growing urbanization that triggers the demand for infrastructure support such as roads, dams, tunnels, highways, subways, and commercial infrastructure.
Moreover, the governments of many countries focus on infrastructure expansions to enhance their economic growth. These factors would aid in increasing construction activity, thus instigating the Blended Cement Market. Furthermore, the demand for blended cement is growing with boosting developments of constructions & infrastructures, and it is estimated that infrastructure & construction would increase in the estimated years.
Global Blended Cement Market Possible Restraint:
Availability of Alternative Material to Hinder the Market – The material, which provides almost the same properties as blended cement, is limiting the Blended Cement Market around the globe. The availability of alternative cementitious materials such as limestone, Portland cement, and other traditional cement & high price fluctuations would restrict the market growth in the estimated years.
Global Blended Cement Market (2024-30): Segmentation Analysis
The Blended Cement Market study of MarkNtel Advisors evaluates & highlights the major trends and influencing factors in each segment & includes predictions for the period 2024–2030 at the global level. In accordance to the analysis, the market has been further classified as:
Based on Type:
Silica Fume
Fly Ash
Slag
Limestone
Slag as a blending material is projected to acquire a significant share of the Global Blended Cement Market during 2024-30. The mounting demand for quality & eco-friendly materials, coupled with the shifting energy trends away from coal-fired plants, are leading to the rapidly diminishing availability of fly ash globally. Consequently, the demand for slag-based blends that exhibit superior durability, versatility, strength, and low heat of hydration is burgeoning worldwide.
Slag-based blended cement is ideal for sustainable infrastructure developments & facilitates exceptional housing facilities owing to its high compressive & flexural strength, better workability, superior finish, fewer cracking risks, and improved life. Due to its low heat of hydration, slag-blended cement is majorly used in mass construction because it is made up of non-metallic products that possess above 90% glass with silicates and alumino-silicates of lime.
Hence, as a result of the rapidly growing population & urbanization, various countries worldwide are witnessing numerous commercial & residential construction activities, which, in turn, are escalating the demand for slag blends and fueling the Blended Cement Market growth.
Based on Application:
Residential
Non-residential
The Residential application is projected to witness rapid growth & significantly boost the Blended Cement Market through 2028. It owes to a dramatic rise in residential building construction activities across Western & Eastern Europe, coupled with a robust rebound of the real estate sector in the developing countries of Central & South America, the Middle East & Africa, and Asia-Pacific, especially India & China, and Indonesia, wherein commercial construction & infrastructural developments are also on a continuous rise.
With ever-growing population rates and improving economic conditions in developing countries, massive investments are being directed toward the residential sector to facilitate housing facility developments. As a result, there's a rapidly growing demand for blended cement for the development of residential buildings owing to their brilliant quality & durability, i.e., stimulating the overall market expansion.
Global Blended Cement Market: Regional Projection
Geographically, the Blended Cement Market expands across:
North America
South America
Europe
The Middle East & Africa
Asia-Pacific
Asia-Pacific is the largest Blended Cement Market, with China, the world's largest cement producer, as the leading country in the regional market. This region includes developing countries, such as India, Indonesia, and Vietnam, which unveils a productive opportunity for the market. The growth of infrastructure & residential developments in China & India is estimated to boost the market globally. Furthermore, India is the second chief cement manufacturer in the world after China. It ascribes to the rising population & rapid urbanization, improving economy, and substantial investments by governments in smart city projects & other infrastructure developments, especially across India & China.
On the other hand, India is prominently backing the regional market growth, owing to its huge population, i.e., an enormous base for the exponential cement demand, and significant economic developments in recent years, which again cites an ever-increasing cement utilization in the country. Hence, these gains indicate the immense potential of the Asia-Pacific Blended Cement Market in the future years.
Global Blended Cement Market: Recent Developments
2023: ACC Limited launched a user-friendly and pre-blended concrete solution 'Bagcrete', which is a high-quality raw material of propositional blend.
Gain a Competitive Edge with Our Global Blended Cement Market Report
Global Blended Cement Report by MarkNtel Advisors provides a detailed & thorough analysis of market size, growth rate, competitive landscape, and key players. This comprehensive analysis helps businesses gain a holistic understanding of the market dynamics & make informed decisions.
This report also highlights current market trends & future projections, allowing businesses to identify emerging opportunities & potential challenges. By understanding market forecasts, companies can align their strategies & stay ahead of the competition.
Global Blended Cement Market Report aids in assessing & mitigating risks associated with entering or operating in the market. By understanding market dynamics, regulatory frameworks, and potential challenges, businesses can develop strategies to minimize risks & optimize their operations.
Frequently Asked Questions
A. The Global Blended Cement Market is expected to grow at a CAGR of around 3.8% during 2024-30.
A. The surging construction & infrastructure in developing countries is expected to drive the Global Blended Cement Market during 2024-30.
A. ACC Limited, Anhui Conch Cement, CEMEX S.A.B. de C.V., Dalmia Bharat Group, Holcim Group, Heidelberg Cement, JSW Cement, Taiheiyo Cement Corporation, The Siam Cement Group, and UltraTech Cement Limited, and others, are the top companies in Global Blended Cement Market.
A. The residential sector is the leading segment in the Global Blended Cement Market.
A. The availability of alternative materials is affecting the growth of the Global Blended Cement Market.
Market Segmentation
Introduction

Product Definition
Research Process
Market Segmentation
Assumptions

Executive Summary
Impact of Covid-19 on the Global Blended Cement Market
Global Blended Cement Market Regulations & Policies
Global Blended Cement Market Trends & Insights
Global Blended Cement Market Dynamics

Growth Drivers
Challenges

Global Blended Cement Patent Analysis, 2024
Global Blended Cement Market Supply Chain Analysis, 2024
Global Blended Cement Market Hotspot & Opportunities
Global Blended Cement Market Outlook, 2019- 2030

Market Size & Analysis

By Revenues (USD Million)

Market Share & Analysis

By Material

Silica Fume
Fly Ash
Slag
Limestone

By Application

Residential
Non-Residential

By Region

North America
Europe
Asia-Pacific
South America
Middle East & Africa

By Company

Competition Characteristics
Revenue Shares

North America Blended Cement Market Outlook, 2019-2030

Market Size & Analysis

By Value
By Volume

Market Share & Analysis

By Material
By Application
By Country

The US
Canada
Mexico

The US Blended Cement Market Outlook, 2019-2030

Market Size & Analysis

By Value
By Volume

Market Share & Analysis

By Material
By Application

Canada Blended Cement Market Outlook, 2019-2030

Market Size & Analysis

By Value
By Volume

Market Share & Analysis

By Material
By Application

The Mexico Blended Cement Market Outlook, 2019-2030

Market Size & Analysis

By Value
By Volume

Market Share & Analysis

By Material
By Application

South America Blended Cement Market Outlook, 2019-2030

Market Size & Analysis

By Value
By Volume

Market Share & Analysis

By Material
By Application
By Country

Brazil
Argentina

Brazil Blended Cement Market Outlook, 2019-2030

Market Size & Analysis

By Value
By Volume

Market Share & Analysis

By Material
By Application

Argentina Blended Cement Market Outlook, 2019-2030

Market Size & Analysis

By Value
By Volume

Market Share & Analysis

By Material
By Application

Europe Blended Cement Market Outlook, 2019-2030

Market Size & Analysis

By Value
By Volume

Market Share & Analysis

By Material
By Application
By Country

The UK
Italy
Germany
France
Others

The UK Blended Cement Market Outlook, 2019-2030

Market Size & Analysis

By Value
By Volume

Market Share & Analysis

By Material
By Application

Italy Blended Cement Market Outlook, 2019-2030

Market Size & Analysis

By Value
By Volume

Market Share & Analysis

By Material
By Application

Germany Blended Cement Market Outlook, 2019-2030

Market Size & Analysis

By Value
By Volume

Market Share & Analysis

By Material
By Application

France Blended Cement Market Outlook, 2019-2030

Market Size & Analysis

By Value
By Volume

Market Share & Analysis

By Material
By Application

Middle East & Africa Blended Cement Market Outlook, 2019-2030

Market Size & Analysis

By Value
By Volume

Market Share & Analysis

By Material
By Application
By Country

Saudi Arabia
South Africa
Rest of the Middle East & Africa

Saudi Arabia Blended Cement Market Outlook, 2019-2030

Market Size & Analysis

By Value
By Volume

Market Share & Analysis

By Material
By Application

South Africa Blended Cement Market Outlook, 2019-2030

Market Size & Analysis

By Value
By Volume

Market Share & Analysis

By Material
By Application

Asia-Pacific Blended Cement Market Outlook, 2019-2030

Market Size & Analysis

By Value
By Volume

Market Share & Analysis

By Material
By Application
By Country

China
Japan
India
South Korea
Others

China Blended Cement Market Outlook, 2019-2030

Market Size & Analysis

By Value
By Volume

Market Share & Analysis

By Material
By Application

Japan Blended Cement Market Outlook, 2019-2030

Market Size & Analysis

By Value
By Volume

Market Share & Analysis

By Material
By Application

India Blended Cement Market Outlook, 2019-2030

Market Size & Analysis

By Value
By Volume

Market Share & Analysis

By Material
By Application

South Korea Blended Cement Market Outlook, 2019-2030

Market Size & Analysis

By Value
By Volume

Market Share & Analysis

By Material
By Application

Competition Outlook

Competition Matrix

Product Portfolio
Target Markets
Research & Development
Strategic Alliances
Strategic Initiatives

Company Profiles (Business Description, Solutions Offered, Business Segments, Financials, Future Plans)

ACC Limited
Anhui Conch Cement
CEMEX S.A.B. de C.V.
Dalmia Bharat Group
Holcim Group
Heidelberg Cement
JSW Cement
Taiheiyo Cement Corporation
The Siam Cement Group
UltraTech Cement Limited

Disclaimer